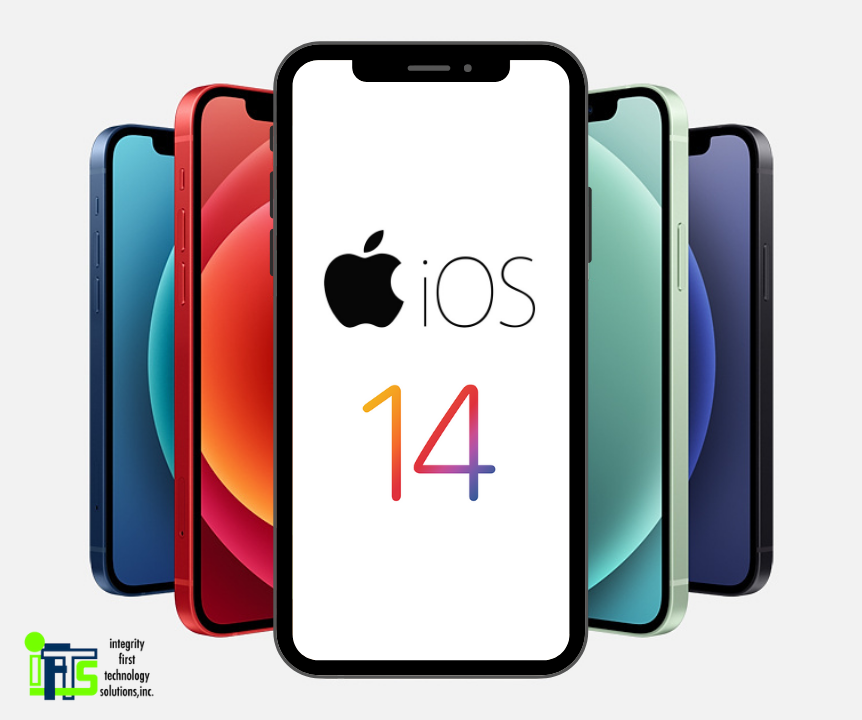 Are you prepared for the Apple iOS update that could drastically affect any Facebook advertising you may be doing?
Late last year, Apple announced that they would be implementing new privacy updates to iOS 14.3. One new feature is that users will now be able to see how each app uses their data. The most significant change is that Apple will now require people to opt-in to having their data tracked…instead of requiring them to opt-out, which had been the standard.
The message that will pop-up is below: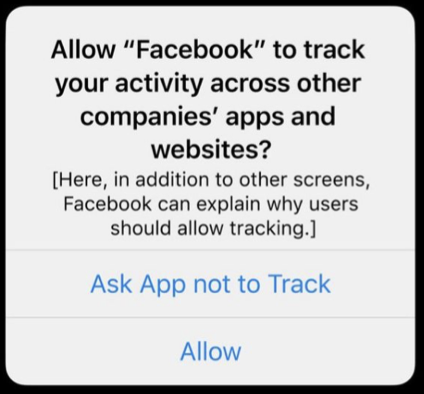 Facebook has been trying to fight Apple on this by stating that it will hurt small businesses.  They took out newspaper ads, ran Facebook ads against it, and explored other options, but the rollout has already started.  In fact, some people started receiving this pop-up in late December 2020.
What Happens When People Opt Out Of Being Tracked?
What does opting out mean for your Facebook ads?
You will not be able to track online conversions from users on mobile devices like you used to, and your retargeting audiences will change or will be missing iOS users.
One positive thing to note – when people interact with your ads in the Facebook app, that behavior is still able to be tracked. So, you can still see the stats for your videos, reactions, comments etc.
However, once a person clicks on an ad and is taken to another site, the Facebook Pixel will not be able to identify that person.  This means that you can't track if they convert and you cannot retarget them.
What Happens When People Opt In To Being Tracked?
Currently, Facebook is estimating that about 10 – 15 percent of people will opt-in to being tracked.
If a person has opted-in to being tracked, there are some changes to that ability as well according to Facebook:
You will only be able to track conversions that happen within 7 days after clicking your ad (instead of the standard 28 days)
All tracking and statistics may be delayed up to 3 days
Personalized ads on audience networks will be very difficult to serve and this functionality may be discontinued
Here is a quick summary of what this means for your Facebook Ads:
You will no longer be able to retarget iOS website visitors
You will not be able to exclude your current customers from seeing your ads using the "Audiences" feature
Your conversion tracking numbers will no longer be accurate
The question on everyone's mind is "What can we do to limit the impact of this change?"
How To Tell If This Change Will Affect Your Facebook Campaigns
If you want to see how this change will affect you, you can see how many people are clicking on your ad or viewing your video broken down by device. Facebook has a view setting for you to check out.
Open your ads manager and click on "Breakdown" > "By Delivery" > "Impression Device". This view will show you the results of your campaign, broken down by device.
In the example below, you can see that iPhones and iPads account for 50% of our video thruplays.

If your campaigns are targeting a large percentage of iOS users and you use retargeting, you'll definitely need to take mitigating steps to account for this update.
How To Mitigate The Damage To Your Facebook Ads Caused By The iOS 14.3 Change
Facebook has outlined 2 quick steps to take right away to manage these changes.
Step 1 – Verify Your Domain Through Facebook
In order to track ANYTHING on your website with the Facebook Pixel, you need to go through the verification process. This will require access to your DNS records.
Open your Facebook Manager and go to "Business Settings". Select the "Domains" option inside of "Brand Safety" on the menu, then click the blue "Add" button.
Enter your domain name and follow the instructions to verify your domain through adding a TXT entry to your DNS records.
Step 2 – Make Sure You Only Use 8 Tracking Events Going Forward
A tracking event on Facebook allows you to track the actions that people take on your site. For instance, you can keep tabs on how many people purchase a specific product.
Some examples of tracking events are:
And more.
To see how many events you are currently tracking, go to your "Events Manager" inside your Facebook Manager.
If you have 8 or less, you are fine to keep your tracking strategy the same.  If you have 9 or more, you will need to choose the 8 that are the most important to you.  Make sure that you have them in priority order.
How to Overcome the Main Issues That Result From Limited Tracking From the Facebook App
What are the alternative ways to create retargeting audiences?
Collect email addresses first in your funnel. Then, use these email addresses to create a custom audience in Facebook by uploading a csv file.
Create a retargeting audience by using an informational video that would be very helpful to your target audience as an ad. Then, retarget the people that watched more than 50% of the video.
Set up custom conversions through the Facebook API to allow you to collect the numbers that you need. There may be a manual step within this process, but it will allow you to collect the information to make informed decisions about your advertising budget.
In conclusion, iOS 14.3 has started to go live and will affect your Facebook retargeting efforts if you don't take any action at all. Tracking your visitors and your conversions will not be an option from anyone using an Apple mobile device.
Be sure to verify your domain name and check if you are below 8 tracking events. Then, start implementing alternative plans to create audiences of your ideal client.
Need help creating a plan to account for these changes or do you want help putting it all into action?  Give IFTS a call at 412.715.6266 or email me (si@iftdesign.com) to ask about our small business special for the iOS 14.3 change!