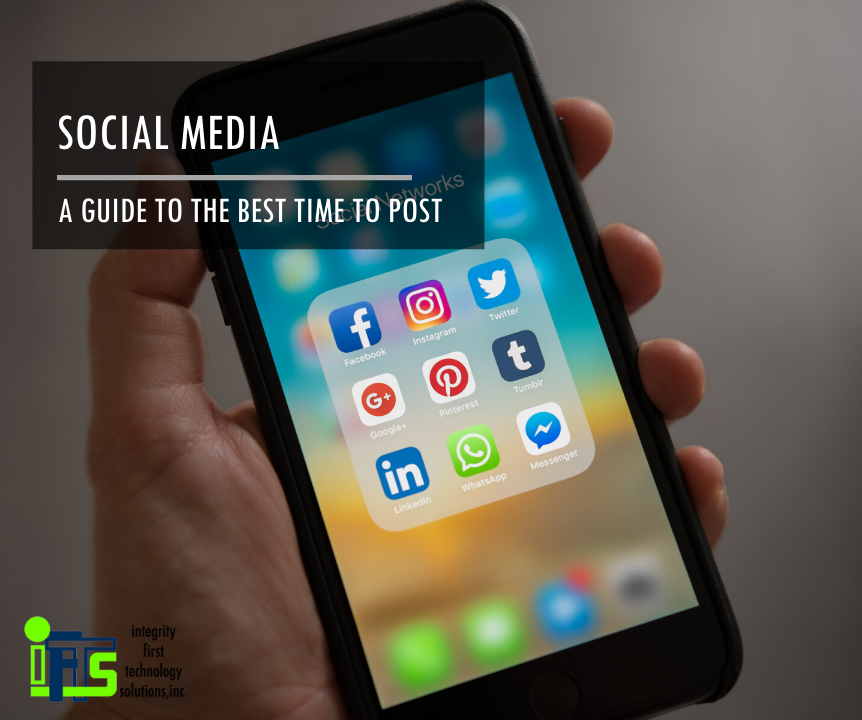 What is the best time to post on social media? 
This may sound like a ridiculous question, but there absolutely is a right time to post on social media.  Audience engagement is one of the key factors when selecting times to post.  More likes, comments, and shares can result from a well-timed post, although timing can vary depending on industry and your specific audience. 
At the end of this guide, you will have a better idea on how to experiment with your social channels to find the perfect time to engage with your audience on those that you appear.
How To Find the ABSOLUTE BEST Time to Post on Social Media
Get Totally Familiar with Your Audience
Look at your best clients or clients that you want to attract.  What common demographics or psychographics do they have?  Ask yourself the following questions:
What are their age ranges?

Where are they from?  A specific city, state, country?

What do they do for a living?  Do they work for a specific company or companies?

Are they more likely to use a mobile phone or a desktop?
Create a complete picture of your target audience using these questions.  This will help you develop a publishing schedule that best caters to them.
Test different times with similar content
If you want accurate results, test consistently. Use the same content (or content that is very similar) when it comes to testing out different times to post. This way, you don't receive a false positive with a not so engaging post that is shared at a high-traffic time.
Keep an eye on your competitors profiles
Make note of when your competitors are receiving high amounts of engagement and what kind of content they are posting. Create an opposing schedule for yourself and make note of the data. Do you also see a boost at the same time? 
Take note of what others in your industry are posting on social media and what their engagement looks like. Larger organizations with sophisticated social strategies are great examples to help you find a starting point for your posting schedule. 
Continue testing 
Even if you find times that are working great for you, keep testing! Audience habits, and network algorithms are going to continue to change which we ultimately have no control over.
Create a social media report for yourself and keep track of when you are receiving the most engagement as well as what the content is. Decide how often you'll experiment with your social channels and keep adding to the list to make sure you are maximizing your efforts for your content to be seen and engaged with!
What time should YOU post on social media for your business? 
Hootsuite, using data from 300 brands, identified what day/time of the week is the best to post and receive maximum engagement. They have also broken the data down by social network.  The results are further divided into B2B and B2C categories.
For the most productive posting time on social media, you should schedule your posts between 9 am and 12 pm during the early work week, according to Hootsuite's data.  
Let's Break it Down By Platform…
Facebook – Best Time to Post
B2B brands: 9am – 2 pm on Tuesday, Wednesday or Thursday.
B2C brands: 12pm EST on Monday, Tuesday or Wednesday.
Things to consider when posting on Facebook
Twitter – Best Time to Post
Can you guess how long Hootsuite data claims is the average lifespan of a tweet?
Give up?  It's  only 18 minutes!
This makes your posting schedule for twitter that much more important.
B2B brands: 9am – 4pm EST (emphasis on the 11am to 1pm window) on Monday or Thursday
B2C brands: 12pm – 1pm EST from Monday thru Wednesday.
Things to consider when posting on Twitter
Instagram – Best Time to Post
Hootsuite analyzed their top Instagram accounts in multiple industries to pinpoint their most productive posting times.
Professional Services Industry : Early in the workday on Fridays, Tuesdays, and Wednesdays from 9 am – 10 am.
Professional services usually post informative, educational content such as links to videos and blog posts. This is content that people are more likely to interact with earlier in the day while they're at work.
It is suggested that if you are just launching your social media accounts, do not schedule posts on the weekends/evenings unless your testing has shown this to be effective.
LinkedIn – Best Time to Post
According to data from Hootsuite, the best time to post on LinkedIn is 7:45 am, 10:45 am, 12:45 pm, and 5:45 pm. 
B2B brands: Wednesday was found to be the best day to post. 
B2C brands: Mondays and Wednesdays
Amanda Wood, Social Marketing Lead at Hootsuite says "The Hootsuite social team posts on the 45-miute mark because most brands are posting on the hour." This is interesting because it offsets your posts from being thrown into the mix with competitors, giving you an opportunity to be seen outside of those flooded peak hours.
Things to consider when posting on LinkedIn
All of these timing recommendations can be used as starting points, then supplement internal data that you have found through testing to maximize your engagement.
Sources: 
https://blog.hootsuite.com/best-time-to-post-on-facebook-twitter-instagram/
https://blog.hootsuite.com/best-time-to-post-on-instagram/
https://www.thedailystar.net/world/the-best-time-post-social-media-1544206