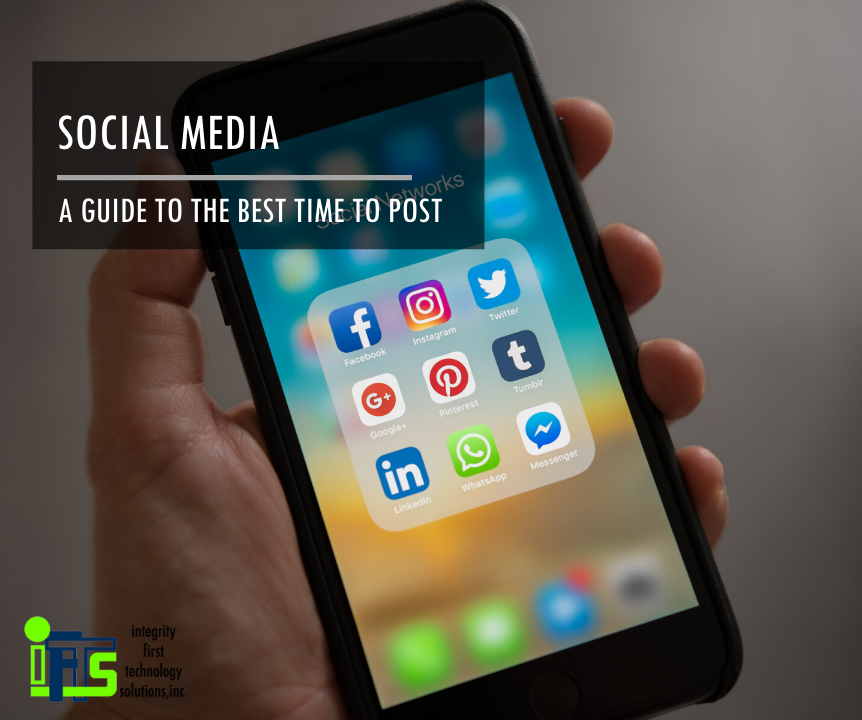 What is the best time to post on social media? 
This may sound like a ridiculous question, but there absolutely is a right time to post on social media. Finding specific times that your audience is most likely to see and engage with your content is key. More likes, comments, and shares can result from a well-timed post, although timing can vary depending on industry and your specific audience. 
At the end of this guide, you will have a better idea on how to experiment with your social channels to find the perfect time to engage with your audience on those that you appear.
How to find the best time to post on social media
Know your audience
How old are they? Where do they live? What do they do for work? What social networks do they use? Do they scroll through their feeds on a mobile device or the computer? These are all questions that you need to be able to answer to develop the best publishing schedule for your content to be seen by your anticipated audience.
Test different times with similar content
Consistency with testing is going to accurately measure results. Use the same or very similar content when it comes to testing out different times. This way, a less than engaging post shared at a high-traffic time won't skew the results.
Keep an eye on your competition
When are your competitors receiving a high amount of likes, shares, retweets, and comments? Test those times as well as an opposing schedule for yourself. Do you also see a boost at the same time? Or do you get more engagement on the weekend when your competitors are quiet? 
Take note of what the leaders in your industry are doing. Larger organizations with sophisticated social strategies are great examples to help you find a starting point for your posting schedule. Take your cues from the leaders, but it is best to always run tests to optimize for your own audience.
Continue testing 
Find the times that work best for you, but never stop testing. Factors such as audience habits, as well as network algorithms are always changing. 
An easy way to keep track of when you get the most engagement for each posting time is to create social media reports for yourself and determine how often you'll rerun experiments on your social channels.
The best times to post on social media 
Hootsuite was able to compile data from 300 brands on social media to identify what day/time of the week is the best to post, and receive maximum engagement. They have also broken the data down by social network and divided the results into B2B and B2C industries.
Generally, their data shows that the best time to post on social media is between 9am and 12pm early in the work week. 
The best time to post on Facebook
For B2B brands, the best time to post on Facebook is between 9am and 2 pm on Tuesday, Wednesday or Thursday.
For B2C brands, the best time on Facebook is 12pm EST on Monday, Tuesday or Wednesday.
Things to consider when posting on Facebook
The best time to post on twitter
The lifespan of a tweet is only 18 minutes, so timing a tweet to reach the correct audience matters more on this network than others!
B2B brands: The best time to post on Twitter is between 9am and 4pm EST (emphasis on the 11am to 1pm window) on Monday or Thursday
B2C brands: The best time to post to twitter is at 12pm or 1pm EST from Monday to Wednesday.
Things to consider when posting on Twitter
The best time to post on Instagram
The Instagram algorithm favors recency when it determines the posts that show up in your feed. Newer posts are more likely to appear at the top of your feed as it is designed to constantly show you fresh content that you are likely to engage with. 
Hootsuite analyzed the top 20 Instagram accounts in 11 different industries over the span of 18 months to then figure out which of their posts received the most engagement.
Professional Services Industry
Data has shown that the best time to post on Instagram for professional services is early in the workday on Fridays, Tuesdays, and Wednesdays between 9 and 10 am.
Professional services usually post informative, educational content such as links to videos and blog posts. This is content that people are more likely to interact with earlier in the day while they're at work.
It is suggested that if you are just launching your social media accounts, avoid posting on the weekends and evenings unless your internal data tells you otherwise.
The best time to post on LinkedIn
Hootsuite was able to determine the best day of the week to post on linkedIn. Combined with their own internal data of what times they get the most engagement on this platform, they were able to state the following:
The best time to post on LinkedIn is 7:45 am, 10:45 am, 12:45 pm, and 5:45 pm. For B2B brands, Wednesday was found to be the best day to post. As for B2C brands, the best days to post on LinkedIn are Monday and Wednesday.
Amanda Wood, Social Marketing Lead at Hootsuite says "The Hootsuite social team posts on the 45-miute mark because most brands are posting on the hour." This is interesting because it offsets your posts from being thrown into the mix with competitors, giving you an opportunity to be seen outside of those flooded peak hours.
Things to consider when posting on LinkedIn
All of these timing recommendations can be used as starting points, then supplement internal data that you have found through testing to maximize your engagement.
If you need help with posting on social media or would even like it done for you, contact us at IFTS.
Sources: 
https://blog.hootsuite.com/best-time-to-post-on-facebook-twitter-instagram/
https://blog.hootsuite.com/best-time-to-post-on-instagram/
Please follow and like us: