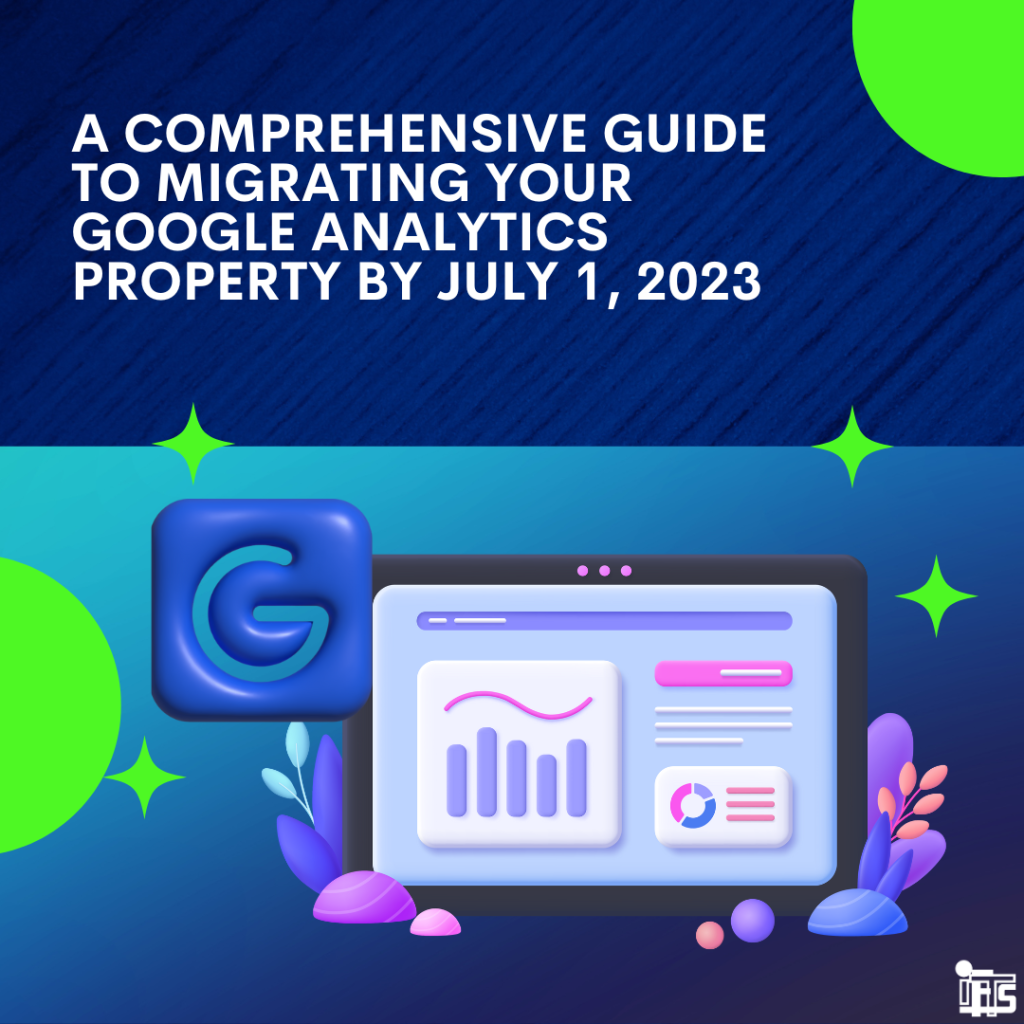 Did you know that Google Analytics is switching over to all GA-4 properties on July 1, 2023?
This means that if you do not have a GA-4 property set up by that date, you could possibly miss out on important data.  Google will auto-create one for you, but it might not migrate over all the settings that you want.

In today's digital landscape, data-driven decision making is beyond crucial for the success of any business. Google Analytics has been a go-to measurement platform for understanding user behavior on websites, ads and more. 
In this blog post, we will explore the migration process, its significance, and the steps you need to take to ensure a seamless transition for your business.
Understanding Google Analytics and Properties
Google Analytics is a powerful tool that enables you to gain insights into user activity on your company's website. Every Google Analytics account can have one or more properties. A property represents your website, and within each property, you can organize data and set up reports. In the past, there were two types of properties: the old version and the new version (GA4).

The Importance of Google Analytics Migration
Starting July 1, 2023, Google will stop processing information sent to the old type of property. This means that to continue measuring user activity on your website, it is very important to migrate to the new version of Google Analytics (GA4). 
Although GA360 customers have an extra year to migrate, it is highly recommended to initiate the migration process as soon as possible to retain historical data.
Automatic vs. Manual Migration
If you don't migrate your property manually, Google will automatically create a new GA4 property for you and migrate as many settings and configurations as they possibly can. 
However, it's important to note that not everything can be automatically migrated, resulting in a better experience if you take charge of the migration process yourself. 
By migrating manually, you ensure that you have all of the data and settings that you want in your new property before the cutoff date in July.
Step 1: Identify your Universal Analytics (UA) Property
Log into your Google Analytics account.  Look for any property whose identifier begins with "UA." This is an indicator that the property is a Universal Analytics property and will need to be converted to GA4 ASAP.

Step 2: Open the GA4 Setup Assistant[h4]
Depending on whether you see the migration banner at the top of your account, click on "Manage GA4 migration" or navigate to the Admin section and select "GA4 Setup Assistant."

Step 3: Choose Migration Options
In the GA4 Setup Assistant, you'll be presented with options based on your existing GA4 property association. If you already have a GA4 property associated with your Universal Analytics property, select it. 
Alternatively, create a new GA4 property by clicking "Get started." Confirm your selection.
Step 4: Install the Google Tag
The Google tag is a snippet of code that measures user activity and sends it to Google Analytics for processing. If you already have an existing tag, select the option to use it. Otherwise, you'll need to install the new tag on your website. Consult your developer or utilize a content management system (CMS) plugin to accomplish this step.
Step 5: Completion and Verification
Once you've installed the tag, you'll be brought back to the assistant. Clicking the button will take you to your brand new GA4 property. Both your Universal Analytics and GA4 properties will be open in separate tabs. The Setup Assistant acts as a checklist for migrating each item. Go through the list, marking items as complete and inching closer to a fully migrated property.

Now That You're Done With The Migration…
Migrating your Google Analytics property from the old version to GA4 is essential for maintaining accurate website analytics and leveraging the power of data-driven decision making. By following the outlined steps, you can ensure a smooth transition and retain crucial historical data.
A Few More Tips For Google Analytics
Tip 1 – Make sure that you connect Google Analytics to Google Ads.  Also, make sure that you connect Google Ads to Google Analytics.  The connection goes 2 ways.
This way, you have access to conversion data and audiences from both platforms.
Tip 2 – The Google Analytics Setup Assistant shows you all of the steps that you need to have a useful profile
The setup assistant will walk you through all of the settings that you need to change in order to collect the best data in GA.
Tip 3 – Set up your audiences so you can retarget them.
Show your ads to people that have been on your website again and again by creating a retargeting campaign.  The best way to do this is by creating an audience that has been on your website, but has not performed a conversion action.
Need help with the migration or anything in Google Analytics?
Contact IFTS today at 412-715-6266 or send an email to si@iftsdesign.com