Are you making a good first impression with your potential customers?
As your business grows, you'll have more and more opportunities to make a good first impression. People should have the same experience with your business, whether they see your logo on your company vehicle or go to your website to learn more about your services. 
Your brand is more than just a logo and color combination, though. It's what people expect from your company and how they talk about you when referring others to your business. 
-And making a brand style guide is a great way to help you stay on track!
What a Brand Style Guide is and Why You Need One
A brand style guide is a document that outlines the specific fonts, colors, images, and styles that you want to use for all of your marketing materials. It can help to create a cohesive look across all of your branding, and it will make your company's overall look more professional. 
Creating a brand style guide can seem like a daunting task, but it doesn't have to be!
If your business doesn't have a mission statement already, you should think about what makes it unique and take the time to put it on paper.
What's your company's voice and personality? 
Who is your customer? 
What would they expect when interacting with you?
Answering these questions is a great place to start shaping what the heart and soul of your company looks like visually. Then, choosing the right design elements will help you achieve that goal. 
Remember, the intent is to create a guide that will help you maintain a consistent look and represent your brand's voice and personality. So, don't be afraid to get creative and have fun with it!
How to Create a Brand Style Guide
When deciding on the overall tone and voice of your brand, here are a few tips to get you started:
1. Start by creating a mood board. This can be as simple as cutting out images from magazines that reflect the look and feel you want for your brand, or you can create a digital mood board using Pinterest or another online tool. 
It may seem unnecessary, but having this in place first is a helpful way to keep your thoughts and ideas organized.  It also gives you a visual representation that may help you make connections you wouldn't otherwise have seen.
2. Once you have a good idea of the overall style you're going for, it's time to start thinking about specific elements like colors and fonts. Make a list of 3-5 colors and choose 2-3 fonts that you'll use for all of your marketing materials. Don't forget to do your research on color and font associations and continue to go back to your mood board for inspiration. 

You'll want to include things like the color names, CMYK swatches, and hex codes (the HTML version of color names) in your guide. 
Also, be sure to find out if there is a cost associated with the use of the font or images you use in your marketing. Some fonts and images have specific copyright rules, and you will want to make sure that you are following their guidelines.
3. Your logo is one of the main things that people picture when they think of your business, and it should make it easier for them to remember your brand. It's a good idea to put your logo and a description of what it stands for in your brand style guide. 
You can put as many different versions of your logo as you want in your style guide, but make sure that each one has a purpose. Outline as many parameters as you'd like, including dimensions and color selection that show exactly how your logo can and cannot be used.
If you haven't put much thought into your logo design, you will want to check out why that's so important in our previous blog post.
4. Now you are ready to create your brand guide to keep on hand or as a digital file that you can easily share with others. 
Include all of your chosen colors, fonts, and any other elements like photos, images, or wording that you want to use and circumstances or exceptions for any changes and a detailed list of those examples.
5. Finally, make sure to review and update your brand style guide on a regular basis. As your business grows and changes, so too will your branding. 
By keeping your style guide up-to-date, your branding efforts will always reflect your business in the best light.
Examples of Brand Style Guides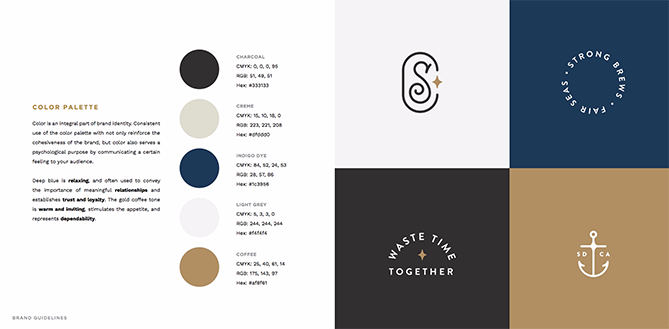 This page, taken from Scrimshaw Coffee's brand guide, is a great example of how to showcase different colors and logos and how they can be used in marketing.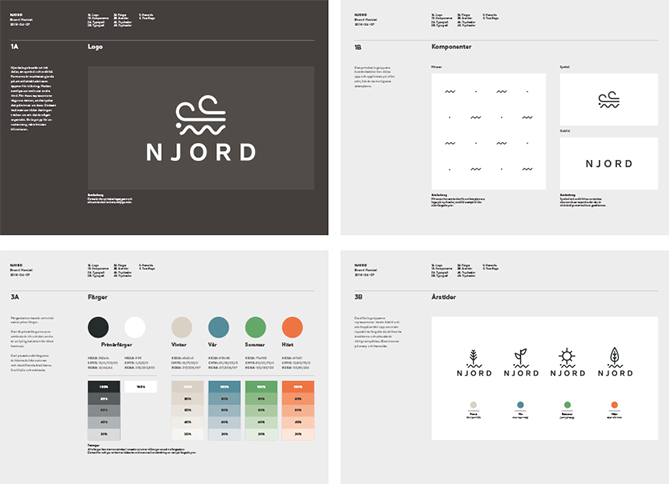 Njord Organic Restaurant shows just how detailed a brand style guide can be.
To see a wide range of the types of brand style guides different companies use, visit issuu.com.  
Saving You Time and Money
Your company's style guide should be created early on in the branding process and updated as needed. Having this document on hand will make putting together promotional materials much easier.  It should also make it easier to bring in an outside marketing team if you get to that point.
With a list of your preferred fonts, colors, and styles, you'll be able to save time, energy, and money by ensuring that everyone on your team is on the same page when it comes to your design standards. 
Again, the importance of making your business more memorable to customers, and therefore building more trust and customer loyalty, can't be stressed enough.
If you're ready to create a branding style guide for your business, our team at IFTS Inc. can help! Contact us today for a free consultation at 412-715-6266!