What is your reputation online?  
If it's 
bad
you don't have one or
don't know what it is
Then, this article is for you!
Painting a house, kitchen or even a room is costly and time-consuming, which is why most people will go online to find a reliable painter.
To seem credible, a home service business must have a Google rating of at least 4 stars and a steady stream of fresh reviews. Reputation marketing may be the answer you're searching for if you want to cut down on callbacks while still offering high-quality service.
Let's get the basics out of the way first: what is reputation marketing?
Promotion, monitoring, and acquisition of positive third-party brand content, like reviews and social media posts, is called "reputation marketing." This is done to improve your online reputation.
Your painting company's online reputation will benefit from this tactic. It's also a tool you can use to find more positive opportunities and make it into a line of defense for your brand.
When it comes to accumulating favorable information about your company, there are two options: organic and paid
Organic evaluations are always more dependable and trustworthy in the eyes of the public than paid advertisements. The majority of consumers are able to discern whether reviews are authentic and posted by other customers who have used the product.
Because they are not "earned," which implies that anybody may obtain them, paid-for evaluations are not the ideal choice, and they often have a bad image as a result. This covers the payment for reviews, press releases, and interviews, among other things.
The use of exclusively paid-for information, according to seasoned marketers, is a lousy business strategy. In a well-thought-out reputation marketing plan, both kinds would be utilized, with a higher emphasis placed on the organic method.
While purchasing phony reviews, bribing consumers to submit reviews, or attempting to have your company listed on particular websites may sound appealing, these strategies are likely to provide little to no return on your investment in the long run.
The Many Benefits of Reputation Marketing
The unfortunate reality is that smaller painting companies tend to overlook or entirely disregard reputation marketing and management as helpful tools until they are confronted with an inflow of negative reviews.
In truth, reputation marketing serves as a safety net for your business. As long as it is implemented in a timely and appropriate manner, it will assist you in establishing strong brand authority and reputation before a crisis scenario spirals out of hand…like receiving multiple bad reviews in a row.
So, if you are still unsure about how reputation marketing might assist your painting business, here are a few ideas to consider:
IMPROVED PERFORMANCE RATINGS
Make sure to pay close attention to the comments and reviews people post about your service and that their comments and reviews portray your home service business in the best possible light. You won't be able to avoid bad feedback, but you can at least curate third-party reviews over time to mitigate the effects. The fact of the issue is that public opinion counts, and the difference between a 4-star and a 5-star rating may translate into hundreds of thousands of dollars in additional income.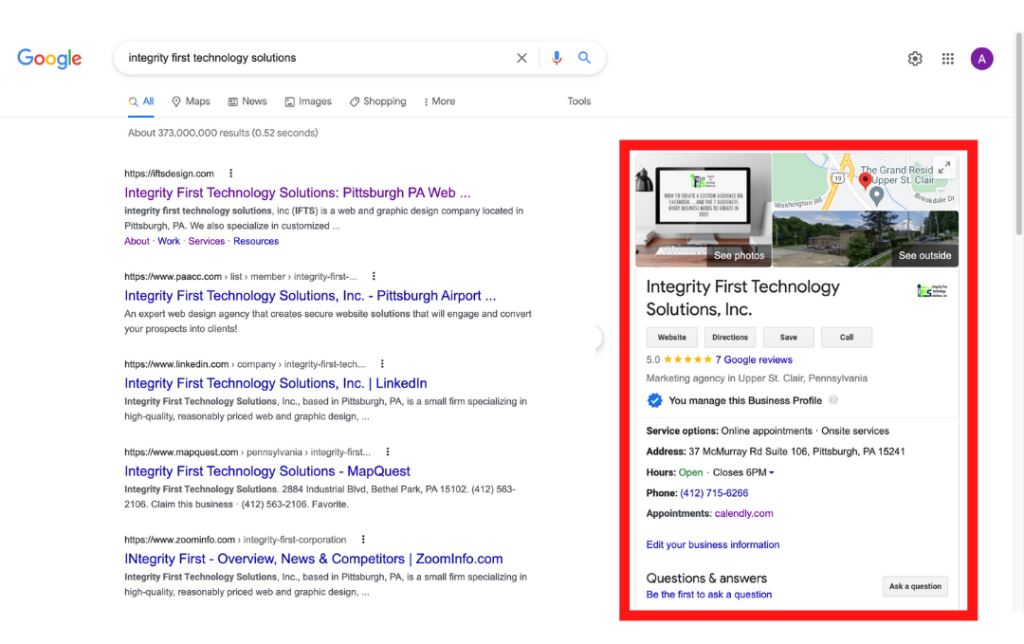 It is the short description with info (and pictures) about your business that Google pulls and appears on the right side of your screen in desktop search results. This Knowledge Panel can be an important business asset and a game changer when it comes to getting more people to visit your home service website. That said, getting it to be shown frequently depends on how well your brand is known and how much structured data you have on your site/Google Business Profile.
GOOGLE PROFILE OPTIMIZATION
If you really want to get serious, you should set up a Google Business Profile (formerly called a Google My Business account). A well-optimized business profile can help your house painting business show up in search results above the rest. Plus, it's free to set up and allows you to connect with potential and current customers and build your brand's trust.
WEBSITE SEARCH ENGINE OPTIMIZATION (SEO)
SEO is all about getting your site to show up high in search engine results.  If Google and other search engines think your page is an authority for certain target keywords, like "house painter near me", then you will get more traffic that all of the painters in your area are fighting for.
GET YOUR BRAND INTO THE SEARCH RESULTS
As time goes on, the hard work that you do pays off in a big way. By building your brand online in multiple directories, you should see more branded results. Your website will show up at the top of the search results if someone searches for your painting company's name.  
LOCAL SEARCH ENGINE OPTIMIZATION (SEO)
Local SEO is one of the most important tools for home service companies because it allows you to target the specific community that you serve directly. Implementing an effective local SEO strategy can boost the search exposure of your business.
Stay tuned for Part 2 of this topic, where we will discuss the impact of online reviews and how to create a successful reputation marketing campaign.