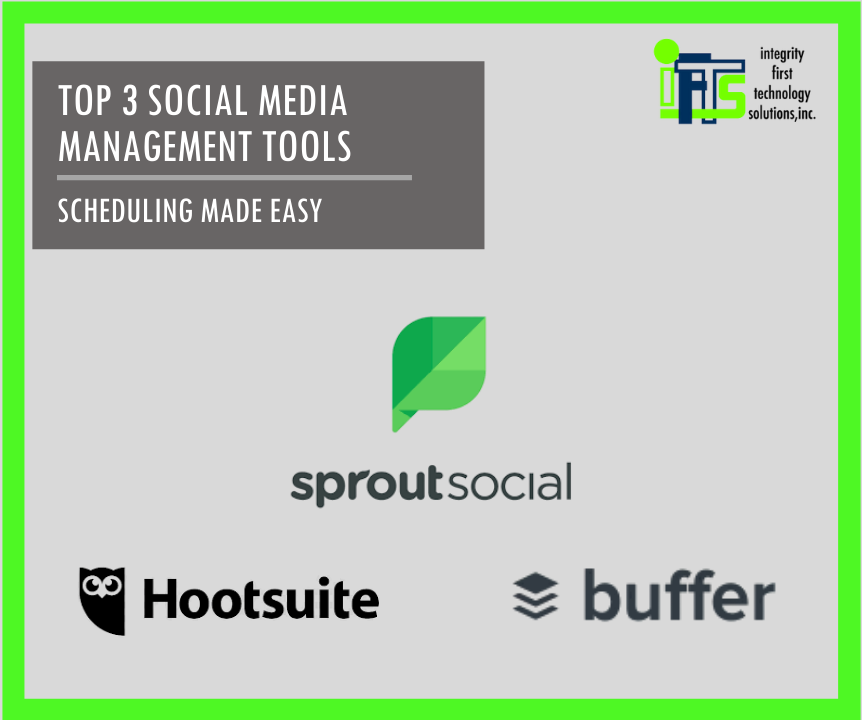 A strong social media presence can do wonders for your business, but keeping up with posting on multiple social platforms can become a chore. Social media management tools help you to manage all of your profiles and pages in one place, so you can spend more time on other aspects of your business. These tools are designed to save you time and help you build an audience.
In this post we compare the top 3 social media management tools, Buffer, Sprout Social, and Hootsuite, noting where each one excels and which one might be the right fit for you.
What makes a great social media management tool?
The 3 social media scheduling tools that we selected cater to a broad range of social networks, particularly the 4 most popular: Facebook, Instagram, Twitter, and LinkedIn.
One of the main reasons people turn to social media management tools is for queuing and scheduling posts. This makes it extremely easy and convenient when coordinating autonomous campaigns that run according to a schedule of your choice.
Given the ability to schedule and post across multiple of your chosen social networks at once is a BIG time saver – especially when you wear many hats within a business. You can even customize each post to suit the platform you are targeting.. Like tagging locations for Facebook and adding relevant hashtags on Instagram.
Top 3 social media scheduling tools
Buffer
Buffer is the best social media management tool for straightforward social media scheduling. It is one of the longest-running social media tools aimed primarily at scheduling posts. One major bonus is just how simple and straightforward it is to use, while also giving you flexibility. Buffer also gives you the ability to measure your performance, create reports, and get insights to grow reach, engagement, and sales.
This service supports Facebook, Instagram, Twitter, and LinkedIn, and pro users can also schedule Pinterest updates.
Buffer can be collaborative – but only if you are willing to pay for a more expensive plan that eliminates the need to pass around login credentials and allows you to approve new posts before they're added to the queue.
Buffer's free version includes one user, 3 social media accounts and 10 posts per profile. The Pro plan is ideal for those who are just getting started. This plan is $15/month and includes one user, up to 8 social accounts and 100 scheduled posts. An option for growing brands would be the Premium package where you can add up to 8 social accounts, schedule 2,000 posts and have 2 users. Now, Buffer has an ideal option for larger teams coming in at $99/month that includes up to 25 linked social accounts, 2,000 scheduled posts and 6 users.  
Sprout Social
Sprout Social is probably first and foremost known as a one-stop shop for managing and scheduling all of your social media accounts through one simple-to-use platform.
Sprout Social handles team interaction very well. You can see when other team members are viewing or replying to messages in real-time. You can also turn items into tasks and assign them to other team members. Several team members can collaborate on drafts before they hit the queue, and you can distribute permissions or request approval before posts are published so that everything remains to your liking.
Although Sprout Social is the best social media management tool for team-based social media management, you have to pay the monthly fee per user.
Sprout Social offers a free 30-day trial. If you like it, prices then start from $99 per user per month for up to 5 different social profiles, with additional plans offering more profiles, scope and features.
Hootsuite
Hootsuite is the best social media management tool for all-in-one scheduling, monitoring and analytics. This app is compatible with over 35 social networks including the top 4 – Facebook, Instagram, Twitter, and LinkedIn.
With any of Hootsuite's plans, you have the option to schedule posts from multiple profiles across multiple social media sites. This allows you to ensure any marketing campaigns are properly timed and targeted when and where you need them to be.
One of Hootsuite's strongest areas is analytics. The tool helps you understand social results by drawing on more than 200 metrics to measure performance. Once you've generated reports, you can export them as Excel, Powerpoint, PDF and CSV files for use within your organization.
Hootsuite is built to work for teams, not just individuals. You can assign access to various team members to avoid handing out passwords, with custom permission levels on a per-user basis. Your team members can use Hootsuite's included content library to compose updates with on-brand assets of your choosing. You can even assign specific tasks to your team members (like responding to comments or incoming messages), then approve the outgoing responses before they're sent.
There are 3 different plans available that include unlimited scheduling, where the difference lies in the amount of users and number of social profiles that can be connected. Professional, Team, and Business plans allow 1,3, or 5-10 users as well as up to 10, 20, or 35 social media profiles to be managed accordingly.
Which social media tool is best for you?
Hoostuite takes the cake at being the all-in-one tool that has the biggest list of compatible networks. It offers more power-user tools that go just beyond scheduling your own posts. The business plans are moderately priced, so if you're working for a large organization with many separate teams, it's likely worth it. For no-frills social media management, Buffer offers a clean user experience that focuses on sharing your own posts and easily manages a small team. With it's cheaper priced business plans, it is ideal for a business that is just getting started and doesn't have a ton of resources to devote to social media. Sprout Social has the best collaborative features of the three but comes at a premium price point.
Please follow and like us: