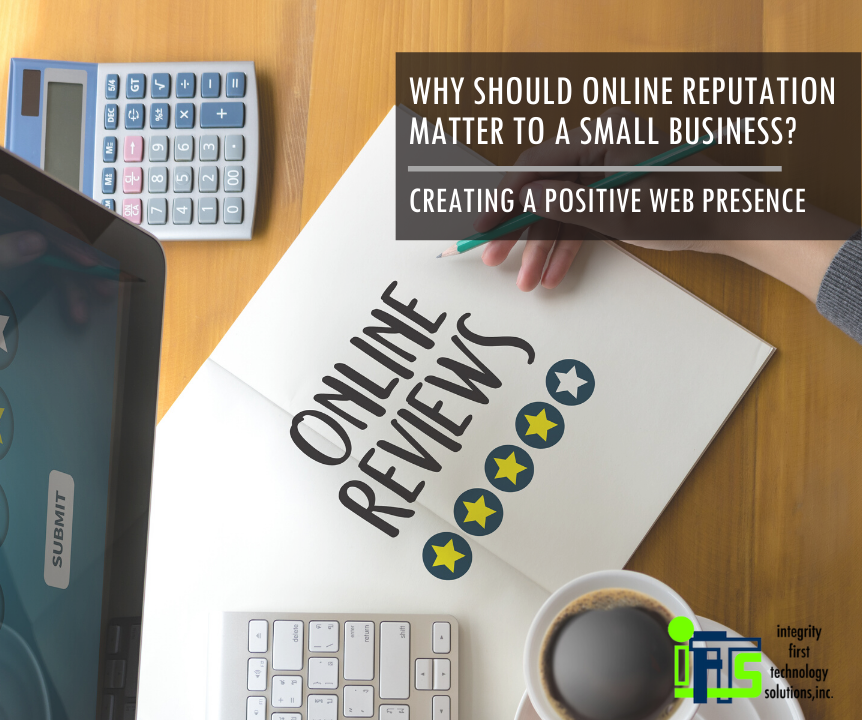 Small businesses (especially those with local brick and mortar locations) seem to underestimate the importance of having a positive online reputation. Without national or international customers, you may ask – "What's the big deal?"
The big deal is that 82% of searches done online are followed up with an in-store visit!
It is very clear that local consumers are utilizing the internet to research businesses close to them. The real question is, "What is the internet telling them about you?"
Any business that is not taking this seriously risks losing business…to your neighbors that position themselves online well (even if their product isn't better than yours)!
Just How Important Is It to Create a Positive Web Presence?
When looking for great service or a great price, local consumers turn to their phones and tablets. With just a few clicks, they are able to peruse Google, Bing, social media, other review websites and forums for businesses that have exactly what they are looking for.
Your company may have an amazing product at an unbeatable price with the world's best customer service, but if your online presence does not reflect this and you have negative social signals, you will have a very hard time convincing new customers to trust you…and pay for your product.
Many people are using word of mouth on social media, online reviews and company content to make informed buying decisions. In fact, more than 90% of people trust online reviews as much or more than a recommendation from a friend or colleague!
Two important questions to ask yourself when it comes to your online presence are:
When your ideal client searches for your product (or service) near your location, do you show in the search results or the maps results?
If so, does he or she see a professional online face to the world with glowing reviews?
If you answered "No" to either of the previous questions, the chances are that you just lost a great customer.
What are the Benefits of Online Reputation Management?
You need to have a positive web presence for the survival of your business. It can help:
Establish your credibility with positive testimonials
Give you an edge over your competition
Build trust with current and future clients
Position your company as the first and best choice for your ideal clients. When they are researching, you need to be the obvious decision.
A well-positioned online reputation is also your best sales person, working for you 24/7/365, especially to those people in your community searching for your specific offering.
Finally, having good reputation management can help you rank higher organically in search engine results, which will expose your business to more customers. Good reviews that mention where you are, what you do and your company name will help tell Google a bit more about your offerings.
How Can a Small Business Build a Positive Online Reputation?
Your website, print advertisements and social media posts are not the only things that make up your web presence. It is a much wider net than most realize. Your online reputation does include those things, but it also is made up of reviews from various review sites, comments on your website or blog, "complaint forum" threads, "Top 10" lists that your company may have made, photos tagged with you or your business and much more. Anywhere that you (or your business) is mentioned, tagged, linked to online – that is all part of your online presence.
Managing all of this seems like it could be akin to "herding cats", but there are a few impactful steps that you can concentrate on to start. This will help ensure the future success of your company.
Step 1 – Monitor Your Online Reputation
The first step to taking control of your online reputation is to monitor it daily. You can handle this yourself or you can outsource this activity, but it is very important that someone is watching.
You need to make sure that you know exactly what your ideal client is looking at online about you. If you find any negative information, be sure to remedy that quickly. With so many products and services available to today's consumer, there is no reason for him or her to trust you (or buy from you) if there is negative information readily available about your business.
Step 2 – Acquire Positive Reviews and Mitigate Negative Reviews
Online reviews are one of the major factors when it comes to your online reputation. Remember, 90%+ of people trust online reviews as much as or more than a friend or colleague. This is why there are more important than any content that you could create.
How many times have you seen a company with multiple one-star reviews and decide to buy from them anyway? I would bet on a very small amount.
Be sure to create an automated system for monitoring, soliciting and responding to reviews that you receive.
If you happen to receive a negative review, it is imperative that you respond to it quickly and with a level head. Remember, your response is for your future clients and not the person that left the bad review. Be sure to apologize that they had a negative experience and offer to talk about their issue offline. This way, people can learn something positive about your company (that you care about your customers) from a negative review.
Step 3 – Get on Social Media
Where do your clients hang out online? Are they on Facebook? Twitter? Instagram? LinkedIn?
Do a little research and find out where they are most likely to be active. Then, concentrate on those social networks and build your profile to be attractive to your ideal client. Be sure to completely fill in the profile and include photos and videos to keep it engaging.
By keeping your social media simple, it will help you avoid overwhelm and really concentrate on activities that will give you the best ROI. Create a schedule for posting regularly and use a tool that helps you automate the process. This allows you to use social media for your business, but cut the time that it takes in half.
Leveraging Your Online Reputation
You've worked hard on your business over the years to build up your name! Don't jeopardize that fact by neglecting to build and monitor a positive online presence.
Overwhelmed or unsure where to start?  Contact IFTS to learn more about our online reputation management program and steps you can take to better position your business.