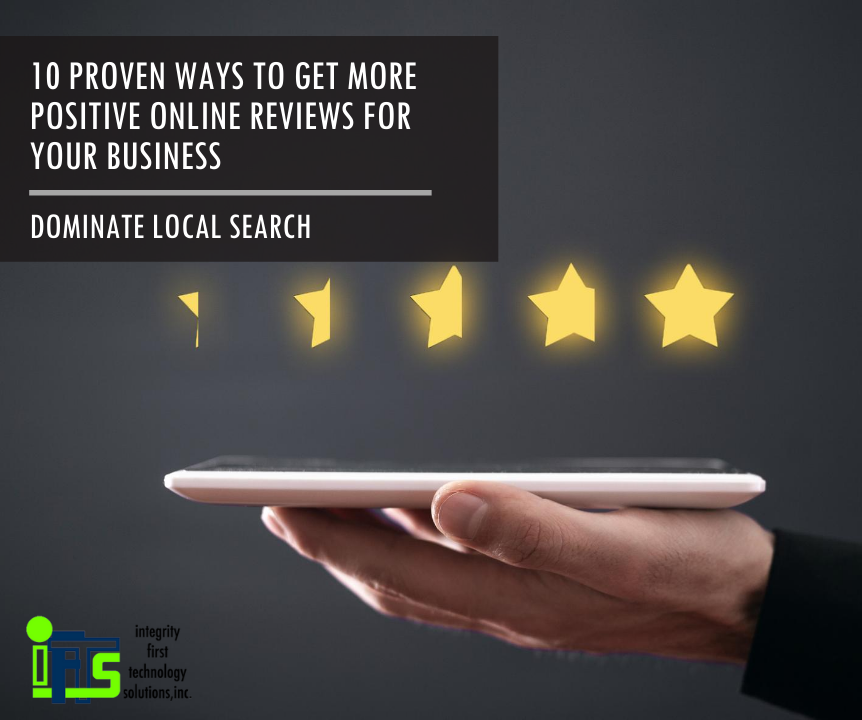 Do you want your business to stand out from the competition?
Do you want to completely DOMINATE local search?
Do you want to have a steady stream of leads coming in online every month?
If you answered "YES!" to even one of the questions above, you need to work on building a system that creates a stream of positive online reviews for your business. When someone in your area looks for a business like yours, you need to show up first organically and be the obvious choice.
One factor that Google uses in organic ranking is online reviews. They will look at quantity, quality, how often you receive them and product/service keywords. Then, they will look at the same thing for your competitors. It is crucial that your business does better than your competitors in all of these categories to show up higher in the rankings.
To be the obvious choice, getting multiple positive reviews consistently is key. They help you strongly influence potential customers. Reviews provide the social proof that people are looking when researching a buying decision.
In this post, we will cover 10 ways to get more reviews, increase your visibility on local search and take your company's online presence to the next level.
Ways to Get More Online Reviews – Tip #1: Create a "Review Generation Strategy" to get reviews on all of the sites that matter to your clients.
Make sure that you are visible on sites and search engines that are used by your clients and prospects!
To start, identify review sites and directories commonly used in your industry and location. Don't forget to research lesser known sites that may be specific to your town or niche. Once you have your list complete, create profiles on those sites (if necessary) and start asking for reviews that funnel to those locations.
Ways to Get More Online Reviews – Tip #2: Ask your 5-Star Reviewers for referrals
Is there anything better than getting a 5-star review from a happy customer?
Not only do they leave social proof online to help others make a decision, but they identify themselves as excellent people to ask for a referral.
Happy customers can make the BEST brand ambassadors for you. They made the effort to leave you a great review, which shows an investment in your business doing well. Reach out to these people with an email or phone call. Thank them for the great review and ask if they know anyone that would benefit from your services. Be sure to personalize these messages. In some cases, they may even offer to introduce you to the referral themselves!
Ways to Get More Online Reviews – Tip #3: Train your employees to ask for reviews
Training your employees to ask for a review should be a top priority in every business. To make this an easy, repeatable task, develop an internal review request system within your company. Make sure that all of your employees know how to use the system and stress the importance of its utilization.
Ways to Get More Online Reviews – Tip #4: Use feedback forms proactively to stop negative online reviews and comments
Bad customer reviews can negatively impact your business in multiple ways. With this in mind, it may be scary to send out review requests to all of your clients. In order to put your mind at ease, there is a middle layer that you can add to your review system that will "catch" those bad comments before they make it to your review profiles – feedback forms.
You can use the feedback forms to funnel the people that want to leave a good review to Google, Facebook etc. and the bad reviews can come directly to you to deal with offline.
Ways to Get More Online Reviews – Tip #5: Respond to every review to build trust with future prospects and increase your online authority
Generating new reviews and monitoring review sites are not the only review management tasks that you need to perform. You need to respond to every review that you receive, as well. This shows your current and future customers how much importance you place on their experience with your company.
Businesses that have review replies are more likely to receive useful, detailed reviews from their customers. In addition, if people know that you are likely to respond, they will be less likely to leave mean-spirited comments within their review.
Make sure to thank the reviewer for taking the time to leave a review and let them know how valuable their input is. If you do receive a negative review, leave a reply with a cool head and offer to discuss the issue that they had offline.
Ways to Get More Online Reviews – Tip #6: Request online reviews from your happiest customers
The best time to ask for a review from a client is immediately following their service or transaction. The experience is fresh in their mind. You have just done a great job for them. Their appreciation for you will be the strongest and they should be more open to leaving a review. Make it easy for them and they will put more effort into leaving an awesome review for your business.
Ways to Get More Online Reviews – Tip #7: Ask your 5-Star Reviewers to leave reviews on multiple platforms (or on video)
Has a client left you a glowing review that you think would benefit others?
If someone has given you a great review, there is now an easy opening to ask them to leave that review on multiple platforms. Additionally, you can ask them for a video testimonial, which is simple to create. They just have to record themselves on their phone reading their review and send you the clip via email or text.
Ways to Get More Online Reviews – Tip #8: Make collecting customer emails part of your onboarding process
Online businesses typically collect customer emails by default as this is part of the buying or opt-in process. However, when you are in a brick and mortar store setting, email collection should be a part of your buyer's journey as well. Create a system that will help you easily assemble this information.
Ways to Get More Online Reviews – Tip #9: Use SMS texts to request reviews
Did you know that you can send a customer a text with a link to a review site?
This strategy is quite effective for companies that already use phone numbers as their primary method of communication with clients. As mobile device usage is so popular, clicking a link in a text message is a fast and easy way for an enthusiastic customer to leave you a review. Because they have received other information from you by phone in the past, they will not be put off by a review request via text.
Ways to Get More Online Reviews – Tip #10: You can use incentives, but be cautious with the rules
Giving customers a perk in exchange for their feedback is an acceptable method of gathering reviews, but keep in mind that there are regulations.
Make sure to look at the "reward" rules for the review sites that you use and follow them. The Federal Trade Commission also has their own rules for incentivizing people to leave reviews. They basically say:
It's okay to invite people to review your business after an actual purchase if you tell them in advance that they should disclose what they received from you in exchange for the review and that the discount or incentive is conditioned upon their making this disclosure. This protects the consumer by giving them a choice to decide how much trust to put into those reviews.
If you have further questions about this topic, speak with your legal team for more information.
Make Your Reviews Your Best Salesperson
The importance of online reviews and monitoring your online reputation is paramount to the success of your business. This includes the following tasks:
Monitor review sites
Constantly request new reviews
Handle negative reviews
Respond to all reviews
Manage the review system itself
Make sure your employees are using the review system
This process can seem overwhelming. Where is a good place to start?
Luckily, it is quite easy to outsource and automate the whole system.  Contact IFTS to find out how to leverage your positive online reputation and protect future revenue without any extra work.  Ask about our free trial of ReviewLead to take your company's online presence to the next level.