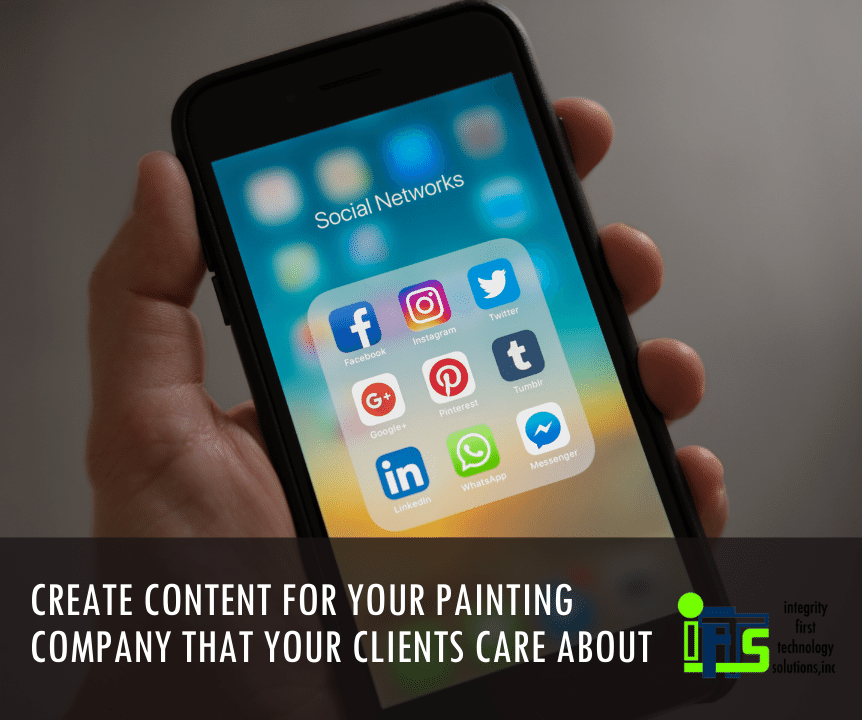 Do you find it challenging to come up with new content to post online for your painting business? You may even think that it's not worth it, because who would see it? In a survey conducted by Facebook, 81% of people said that they use Instagram to learn about products and business services. We're here to tell you that your content definitely won't go unnoticed.
Today, you would be surprised at how many people seeking painting services turn to social media to check out different painting companies. 58% of consumers visit a brand's social media pages before visiting their website. Sure, people can take others' recommendations on a painting company. But if you can show these potential clients your work first hand, you'll be able to win them over without hesitation!
Your target audience wants to see original content that is valuable and actionable. Whether the content that you are putting out is in the form of a blog, video, or infographic, it has to be digestible for your audience.
In this article, we are going to cover the top 3 types of content that your clients REALLY care about. We also suggest some content ideas that will grab your audience's attention!
Video Content
Video content allows you to capture the attention of your viewers within seconds. 84% of people say that they've been convinced to buy a product or service by watching a brand's video. Post your video to YouTube, then break it up into shorter video clips to be used on your social channels. This way, you can get many pieces of content from one single video!
Here are a few video content ideas for your painting business:
"Oddly satisfying" videos
Oddly enough, people love to watch other people paint! This content can be seen as "oddly satisfying" to users. If your audience is like most of us, it's very easy to fall down a rabbit hole watching these satisfying videos!
Testimonials
People that are looking to hire you love to hear directly from others that have had work done by your business. What better way to showcase your work and a five-star testimonial all in one?
Day In The Life Video
Everyone loves to see a little behind the scenes, am I right? This is a great way to show customers what they can expect when they hire you for a project! 
Blog Content
Blog articles are a fantastic way to provide long-form content to those searching for information.
FUN FACT: Any blog topic can be turned into a video! These videos can then be turned into informational social media posts. NOW we're talking about getting the most out of your content!
Here are a few ideas for blogging that your audience will definitely want to read:
Paint recommendations
As we all know, there are many different kinds of paint out there. For some people, choosing the correct paint for their project can be a daunting decision to make. Between chelpbrand, finish AND color, a little assistance and good word from a pro can go a long way!
Frequently asked questions
Everyone is going to have questions. There are tools available such as SEMrush that can provide you with FAQ's surrounding any given topic. This tool will also tell you how many times those questions are searched per month. Use this information to your advantage and write about the topics that you know people are searching for.
Why you should hire a professional
Many people don't realize what they are getting themselves into when it comes to tackling projects around the house.  How many times have you had to complete a project that has already been started? Give your reasoning as to why it is more time and cost effective to hire a professional from the start!
Social Content
Social content can be displayed many ways, especially depending upon the platform you are using. Whether you are posting to your Facebook feed or Instagram stories, keeping your audience engaged and interested is your number one goal.
Here are a few ideas that you can use to create content for your social channels:
Before and after
These photos are always a hit! Who doesn't love to see a great transformation? You have the opportunity to lay out the quality of your work right in front of a potential client's eyes.
Helpful information + tips and tricks
Providing helpful tips and tricks shows that you aren't just about making a sale. You can provide information about handyman services done by painters and tips on how to know when your home needs a fresh coat of paint. You can also give tips on different painting techniques. Who knows, you just may end up with a sale after all!
Images of your team
A great way to humanize your business is by showing pictures of your crew hard at work. People love to have an idea of who will be working on their project and this way, they are able to put a name to a face. Plus, if they see quality work before their eyes, they'll be sold!
If you aren't sure where to begin with posting content on social media, don't panic! Give IFTS a call at 412-715-6266 and we can discuss a social strategy that will work for you.