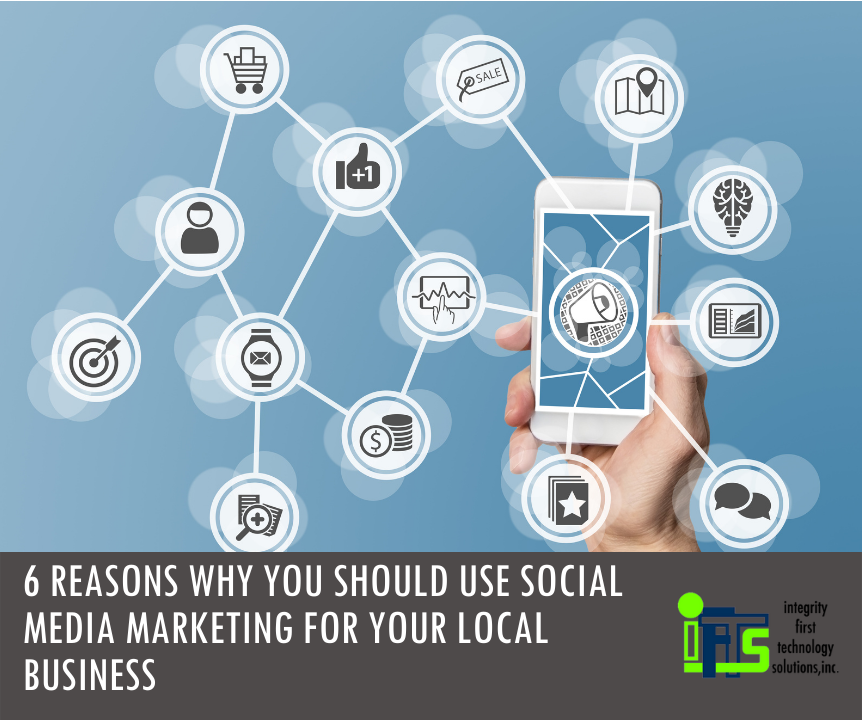 It is amazing how many new clients and prospects you will find in your neighborhood by using social media to promote your local business!
On a daily basis, millions of individuals use Facebook, Instagram, and other social media networks. There is a good chance that your potential customers are already "friends" with your competition on social media.  Make sure that you aren't missing out! It's impossible for people to realize your business exists unless you're engaged on social media. It's critical to have a strong online presence in order to interact with more prospective customers and expand your business in today's social media era.
Reason To Be On Social Media #1 – Social Media Marketing Is Quick, Affordable and Effective
Using social media to promote your local business on a tight budget is a great option! It's easy to use, can run ads for as little as $3/day and has great local targeting abilities. You can start advertising your business right now by creating a free business profile. Using the right techniques, social media marketing will bring in more local leads, increase website traffic, and boost revenue.
Reason To Be On Social Media #2 – Social Media Posts and Videos Helps You Create Client Trust For Your Brand
Every single day, millions of individuals throughout the world engage in social media activities. You can create genuine relationships with your fans on social media because of this. Increasing your brand's visibility and establishing trust with your consumers has never been easier.
People like to do business with people, so put a face to your business name on social media.  Use this space to give your clients a glimpse behind the scenes at your company.  It's a solid opportunity to humanize the brand.
Reason To Be On Social Media #3 – Social Media Marketing Helps Promote Your Local Business (And Sales)
You will greatly enhance your click-through rate, your website's traffic, and your revenues with intriguing posts and videos on your online properties. If you have a product or service that you want to advertise locally, you may simply do it with the help of social media and social sales tools, which are always evolving.  Another great place to do this is your Google My Business Profile.
Reason To Be On Social Media #4 – It's Easy To Learn LOTS Of Information About Your Clients on Social Media
It's simple to discover more about your consumers because the information is so accessible on these platforms.
How well-versed are you in the demographics of your target market?
Businesses can learn a lot about their clients by using social media insights and other third-party tools. When you introduce a new local service or product, you can leverage the knowledge you've gathered about your target market to design compelling ads.
Reason To Be On Social Media #5 – You Can Easily (And Cheaply) Narrow The Scope Of Your Ads To Your Ideal Audience
Use social media marketing for precise audience targeting.  You will find that most platforms have ads that are fairly inexpensive, which will allow local businesses to compete with the "big dogs" as well. In addition, social media sites provide real-time insights into the performance of your campaigns, allowing you to continually improve your advertising based on real-time information.
Reason To Be On Social Media #6 – You Can Easily Spy On Your Competitors
Keep your friends close, but keep your enemies closer! Local companies may easily "spy" on their competition using social media. You can see available ads, targeted keywords and more!
Keeping tabs on the competition is easier than ever before thanks to social media. Learn from your rivals' marketing strategies so you can tailor your own plan to reach more customers.
Want Some Help?
If you want to start marketing your company online, but aren't sure where to start, let us help!  Call IFTS today at 412.715.6266 or email us at si@iftsdesign.com.