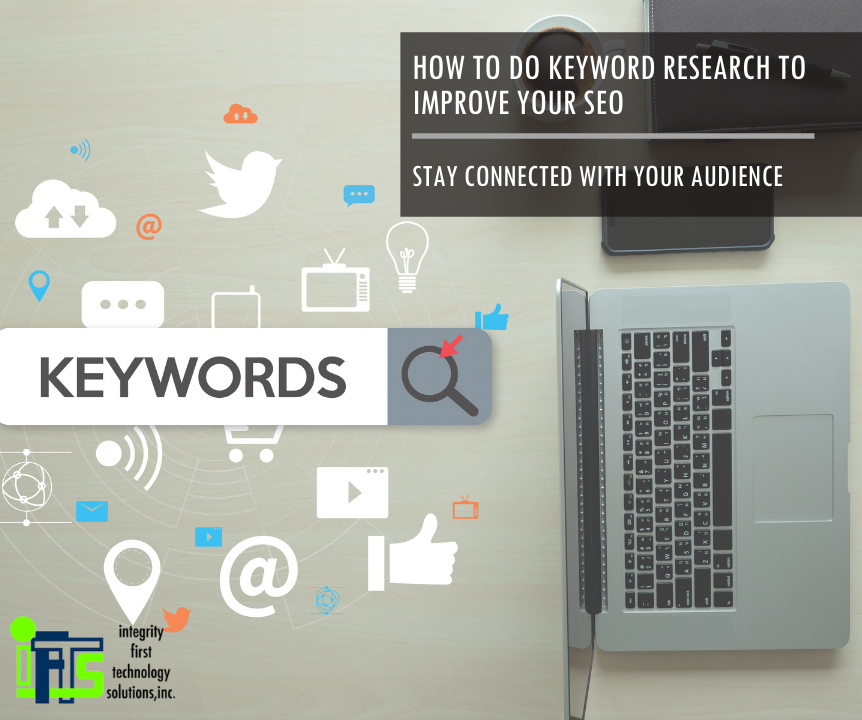 Keyword research is the core of digital marketing. This SEO strategy should be performed regularly in order to stay in touch with your audience as they grow and evolve.
The goal of YOUR research is to find out what words or phrases your target audience is searching for, so you know what it will take to rank on search engines for those specific terms.
If you don't know what keywords you should be targeting for your business – how are you going to optimize your website and create content to best serve your client?
In this guide, we will cover:
What are keywords?
What is keyword research and why is it important?
How to conduct keyword research using SEMrush
How to use that keyword research to get more clients (with some BONUS TIPS)
What is a keyword?
Keywords, also known as search terms or search queries, are the words and phrases that searchers use to perform a search in a search engine (like Google or Bing). Keywords are extremely important in an SEO strategy and should be the backbone of any written content you release on the web.
What is keyword research?
Keyword research is an SEO strategy that is used to find specific terms that users enter into search engines to find products, services, and information. More importantly, keyword research helps you figure out how people find you. Using this knowledge, you'll know exactly what to write about on your website and blog for your target audience.
In order to get traffic from Google, performing keyword research to understand the words and phrases used by searchers is essential. Google uses this information to determine what content is relevant to a search term, and how that page should rank in search.
Proper keyword research will help you:
Understand your audience
Reach your audience
Find new hot topics to cover
Improve ad campaigns
Build brand awareness
Why is keyword research important?
Do you ever wish that you could read the mind of your perfect client? With a little bit of keyword research, you CAN jump into their mind to figure out the exact words and phrases they are using to search for results that relate to your business.
Who wants to waste time creating content on topics that aren't being searched for?
Keyword research can help you answer the following questions:
How difficult is it to rank for this keyword?
How much traffic will I receive if I rank for this keyword?
What keywords are my competitors ranking for?
How to do keyword research
Keyword research consists of collecting relevant variations of all keywords that relate to your website, products, services, etc.
We are going to walk you through researching keywords using SEMrush. This is an amazing tool that is used to improve online visibility and discover marketing insights.
Step 1: Build your keyword list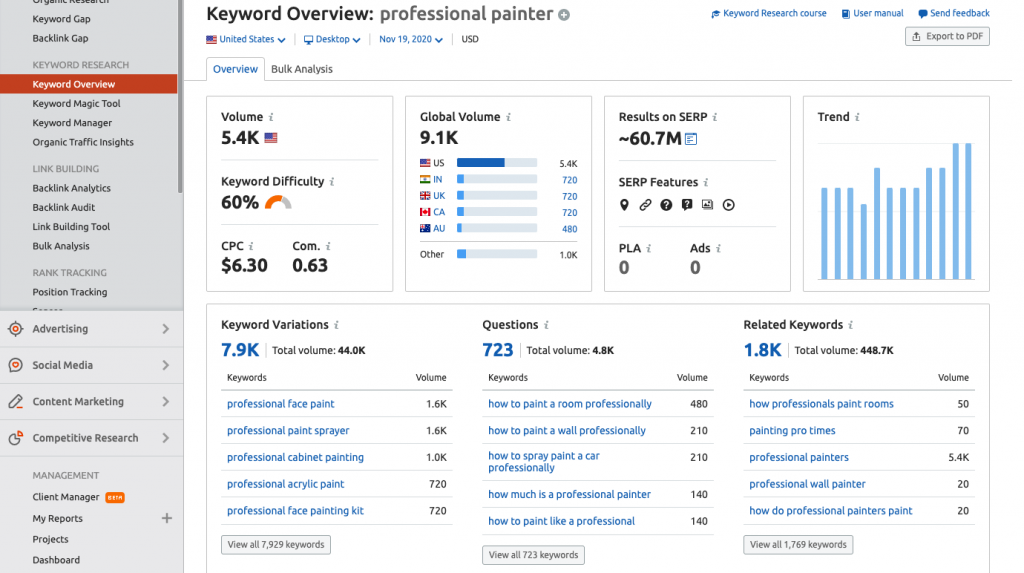 Let's build a list of keywords for ABC painting company. To begin, we will start by searching for a general keyword relating to this business. In the image above, you can see that we searched for "professional painter" in the keyword overview section of SEMrush.
Keyword overview gives you a quick analysis of your keywords.  You can see a summary of metrics for each keyword such as number of results on a search engine results page, monthly search volume, average cost per click in Google Ads, paid search competition, and more.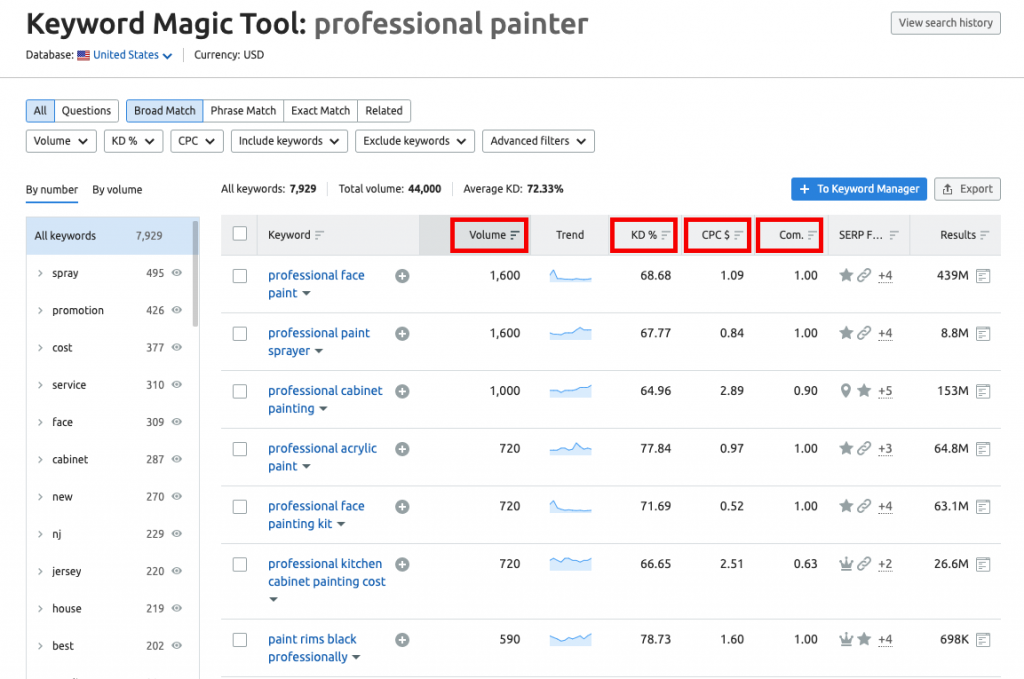 You can create your master keyword list using the keyword magic tool. Starting with our seed keyword, professional painter, we are now able to see lists of keyword variations and related keywords.
You don't have to stop here; continue to search for other seed keywords if you would like to keep growing your list. When researching keywords, be sure to also search for location specific keywords. For example, "professional painter pittsburgh" or "Pittsburgh painting company".
The photo above shows the list of keyword variations for "professional painter". Although the results show thousands of keywords, this does not mean that they will all be relevant for you. After your initial list has been built, it will need to be trimmed down to just the terms that are truly relevant to the site you are researching.
Step 2: Analyzing your keyword list
Having a list of thousands of keywords is all good and well but how do you know which ones are the best to use? SEO keyword metrics can be used to narrow your master list down and find the best of the best.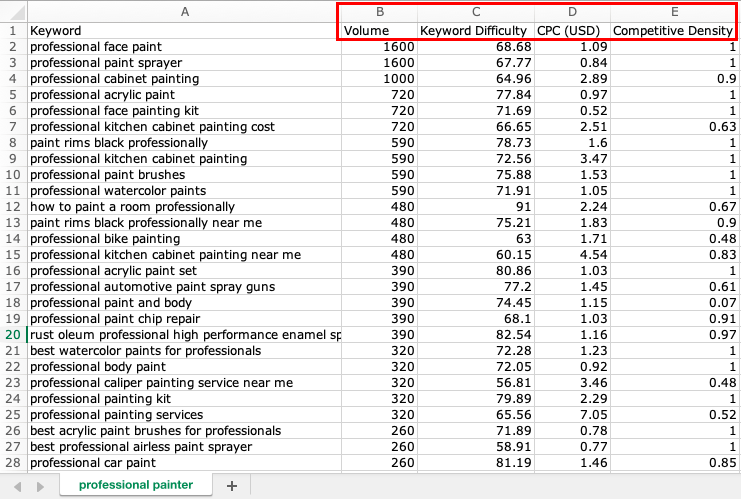 Export the data from SEMrush and make note of the columns boxed in red – these are the categories that you want to look at. These are the keyword metrics that will help you narrow your list and find the best keywords to use.
Search Volume
Search volume shows you the number of monthly searches for a particular keyword over the previous 12 months.
Keyword difficulty (KD%)
The keyword difficulty index (from 1 to 100%) shows you how difficult it would be to outrank your competitors in the Google organic top 20 for a given keyword. The higher the percentage, the harder it will be to achieve high rankings for each targeted keyword.
Cost per click (CPC $)
Average price in USD that advertisers pay when a user clicks on an ad triggered by a given keyword.
Competitive density (Com.)
The level of competition between advertisers bidding on a given keyword within their PPC campaigns. Competitive Density is shown on a scale from 0 to 1.00 with 1.00 being the most difficult to rank for.
Now that you have formed a list using what you think that people search for, it's time to confirm your suspicions by researching your competitors.
Competitor-based keyword research
Competitor keyword research uses seed websites instead of seed keywords to begin searching. This approach can be used in conjunction with traditional keyword research.
Discover organic competitors
Using organic search, you are able to find who Google believes your competitors are. You can also see what keywords they are ranking for.
Even if you think you know who your competitors are, it is still a good idea to check it out with this tool. One important note, if you don't see any of the competitors that you expect on this list, there is a good chance that your website is not optimized for the right keywords.
Navigate to the organic search tab on the left side menu and enter your domain in the search bar. Click on the competitors tab to reveal the table of domains that you are in competition with.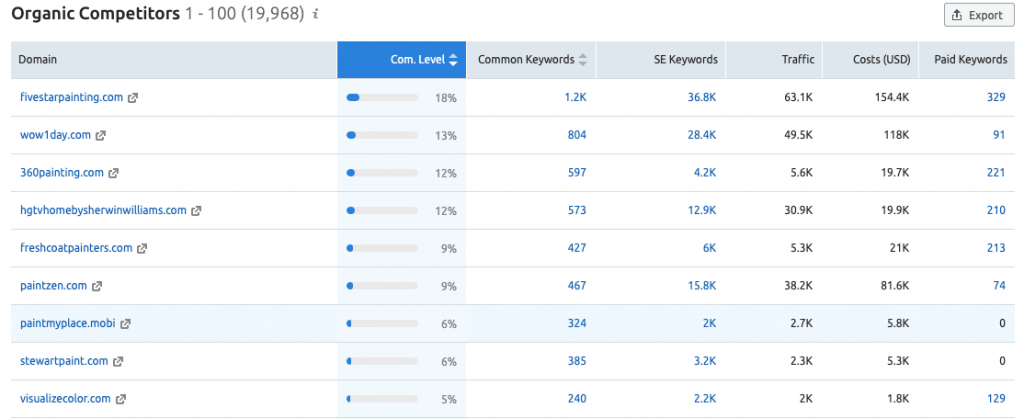 Here is a list of your competitors that can be used as your seed domains. They are sorted by competition level showing how close of a competitor they are to the one that was entered in the search bar. This metric is based on the total number of keywords of each competitor and the number of common keywords between the competitors.
How to get your competitors keywords
Under the positions report of the Organic research for the seed domain, you can find all of the keywords that a domain is ranked for.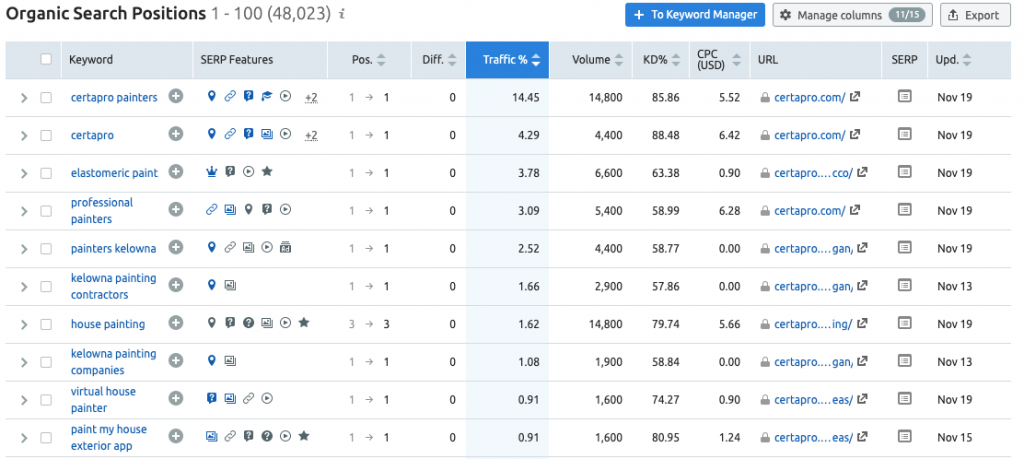 Each keyword that a domain ranks for is shown in this list and is accompanied by a link to that corresponding landing page along with metrics to help further your research. So, for each of your competitors, type their URL into the search bar under "organic research" and you will have access to all of the keywords they are ranking for.
Between using a seed keyword and your competitors' keywords, this method should help you create a list of keywords relevant to your business.
What Should I Do With a Keyword List?
Taking the time to create this list can help your business in multiple ways, but the ultimate goal is always to get more clients.
So how do you use this list?
Write Relevant Blogs for Your Clients
You can use the list to write blogs or articles about the things that your target market are searching for. SEMrush will also give you FAQs about the keywords your search. Pick a few of these questions that are focused on a keyword and answer them.
BONUS TIP – You can also turn that blog into a script for a video that you can post on YouTube.
Improve Your Onsite SEO
You can use the list to improve the onsite SEO of your website. Make sure that common keywords and phrases are found in your website headers, page titles and more.
BONUS TIP – Include keywords when you are naming images.  This is one trick that people do not typically take advantage of.
Improve the SEO of Your Social Media Profiles
Use the list that you create to craft the perfect message in your social media profiles. By using words and phrases that they are using frequently, they will feel like you are talking to them and that you understand them.
Create Google Ads that Perform Well
Keyword research is critical when it comes to creating Google Ads and not spending a fortune.  Be sure to figure out what people are searching for when it comes to your business so you don't waste your time and budget by showing ads to people searching the wrong thing.
Questions about keywords?  Need help doing with your keyword research?  Contact IFTS today and ask about our keyword research package!  We do the keyword research for you and set you up with a content plan for the next 365 days!