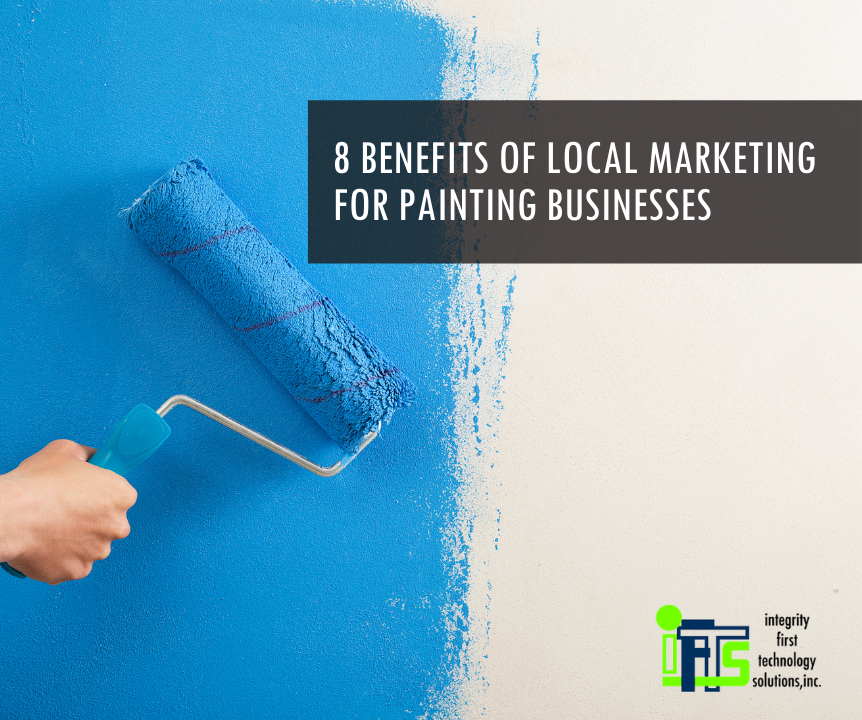 As a painting business, it is essential that all of your customers, especially those in the same local area as your business, know about you and are able to find you should they need your services. This is called local marketing.
With local marketing, a painting business can advertise specifically to the targeted location where the business operates. 
Businesses of all sizes, including large firms and corporations, utilize local marketing to grow their sales and customer base. Even the little guys are killing it, and so can you! But how exactly can you benefit from it?
In this article we are going to cover 8 benefits of local marketing for painting businesses and why you should start implementing these strategies today.
Before we get started.. We have 7 simple steps that will help you get your business in front of the right customers, downloadable as a free guide.
The Painter Marketing Broad Brush Effect
Get a FREE download of our 7 simple steps that will bring in more painting customers than you can handle in 2021 and beyond.
Benefits of Local Marketing for Painting Businesses
Painting businesses that implement local marketing strategies can attest to the growth that comes with it. Here are some of the benefits that you cannot afford to miss out on:
Your painting business may be located in New Jersey, but how do you get the locals to even notice you, let alone schedule an estimate? Thankfully, local marketing allows you to specify the demographics and location of your potential customers. 
It also allows you to target customers based on their interests, and even filter through the timewasters. Local marketing is the best way to get in front of those local customers who are really hungry for your services and are willing to make a purchase. And all this can be done while you're on a low budget.
Forget what you thought you knew about marketing and advertising 20 years ago. Local marketing these days is known for its low-cost strategies, thanks to the web. Traditional forms of advertising can still be a bit costly, reserved mostly for larger companies with an in-house advertising department who can afford the expenses; but you're not Home Depot, are you?
When it comes to local online marketing, marketing strategies are significantly low-cost and customizable, even for the smallest of businesses. 
With local marketing, you are positioned right in front of your future customer — a local who is either actively searching for your painting services or has a significant interest in them.
You will appear in the search engines based on local queries ("professional painter near me", "New Jersey painting company"), and rank the highest if you go about it strategically and have the know-how of ranking factors and things like SEO.
Local search is on a constant rise, with the words "local" and "near me" being searched 350 times more than they were 10 years ago. You'd be crazy not to take advantage of this!
4. Lasting Business Relations
Customer loyalty is one of the cornerstones of a successful painting business. In the world of digital, we like to replace the term with "community". 
Building local online communities is not only easy, cost-free and accessible, but it also results in lasting business relations. You don't need to be Coca-Cola or Apple or have your own in-house PR department to build good, long-lasting customer relations. All you need to do is choose a platform and start building a community around your business. You can do this by sharing information, photos and other content related to your painting services, and by keeping in touch with your customers through direct messages and comments.
Besides the free consumer information, your business can advertise bonuses, discounts, or new products. This way, you can retain customers even after a sale, and nurture repeat client relationships that will last.
5. Branding and Brand Control
Branding might sound a bit too technical for most people but with local marketing, small businesses can dominate and establish themselves as industry experts if they can position and brand themselves effectively. You can always contact us at IFTS if you want to learn more about branding rather than figure out and do the legwork all by yourself.
As an industry expert who is well-branded, you will draw in more customers without having to do much work — your branding does the work for you. Customers will know your brand when they see it, and learn to trust and identify it. 
You can then reap the benefits of your branding efforts by easily keeping track of clients' opinions of your services and rectifying dissatisfactions before they get out of control. Armed with clients' preferences and consistency, you can retain your relevance in the market and, in turn, convert more locals into paying clients. It's all about branding, baby.
Have you ever watched a YouTube video on DIY painting by an average Joe who owns a small local painting business on the other side of the country, yet has a slew of worldwide followers? That's what scaling your business may look like in the digital world.
Because you are on a globally-accessible tool called the Internet, your small local business may grow beyond its regional status into possibly national and international levels. 
As the business scales, the established local communities will help you maintain your relevance locally as you garner attention from others beyond your local area. While this may not result in actual service sales, boosting your following will, more often than not, boost your digital visibility, ranking, positive reviews, Likes, and referrals — regardless of where your web-based supporters are located.
Another benefit of local marketing is making use of online booking tools. If you have a local Google My Business or Facebook page, for example, you can add your phone number, email, or even make use of the scheduling button to make booking accessible to your potential customers as soon as they visit the page.  
80% of home services queries lead to a phone call after search, but that's if you make it easy for them to call you.
8. Keeping Track of Marketing Efforts
Online local marketing is one of the easiest ways to keep track of the performance of your ads and marketing efforts. 
As a business, you can access low-cost and sometimes free statistics. You can get and analyze information such as website hits, engagement on posts, and even sales for free from the available inbuilt platform statistics. If you feel fancy, you can pay for marketing automation tools that also keep detailed business statistics.
Any kind of painting business stands to grow tremendously from implementing a well-thought-out local marketing strategy. 
Don't forget, we have a FREE guide that you can download for instant access to 7 simple steps that will bring in more painting customers than you can handle in 2021 and beyond.
If you'd like us to do some or all of the work for you, contact IFTS for a free consultation and let's talk about your business specifically.