Spending money on digital advertising but not receiving the desired results – more leads?
This issue can sometimes be caused by problems with your Landing Page.  A landing page is the webpage that you direct people to after clicking on your advertisements. 
If you want to generate more leads for your painting business, you need to create a well-designed landing page with laser focus. In this article, we'll discuss the fundamentals of what a landing page is and offer advice on how to improve each element to boost conversions.
So, What Exactly Is A Landing Page?
A landing page is a dedicated web page built for the sole purpose of receiving visitors from advertising campaigns. When someone clicks on one of your digital ads, they will "land" here.
This is a single page that explains to potential clients why they should hire you for a certain project and how to get started. There should be only ONE action that they are able to take on the page.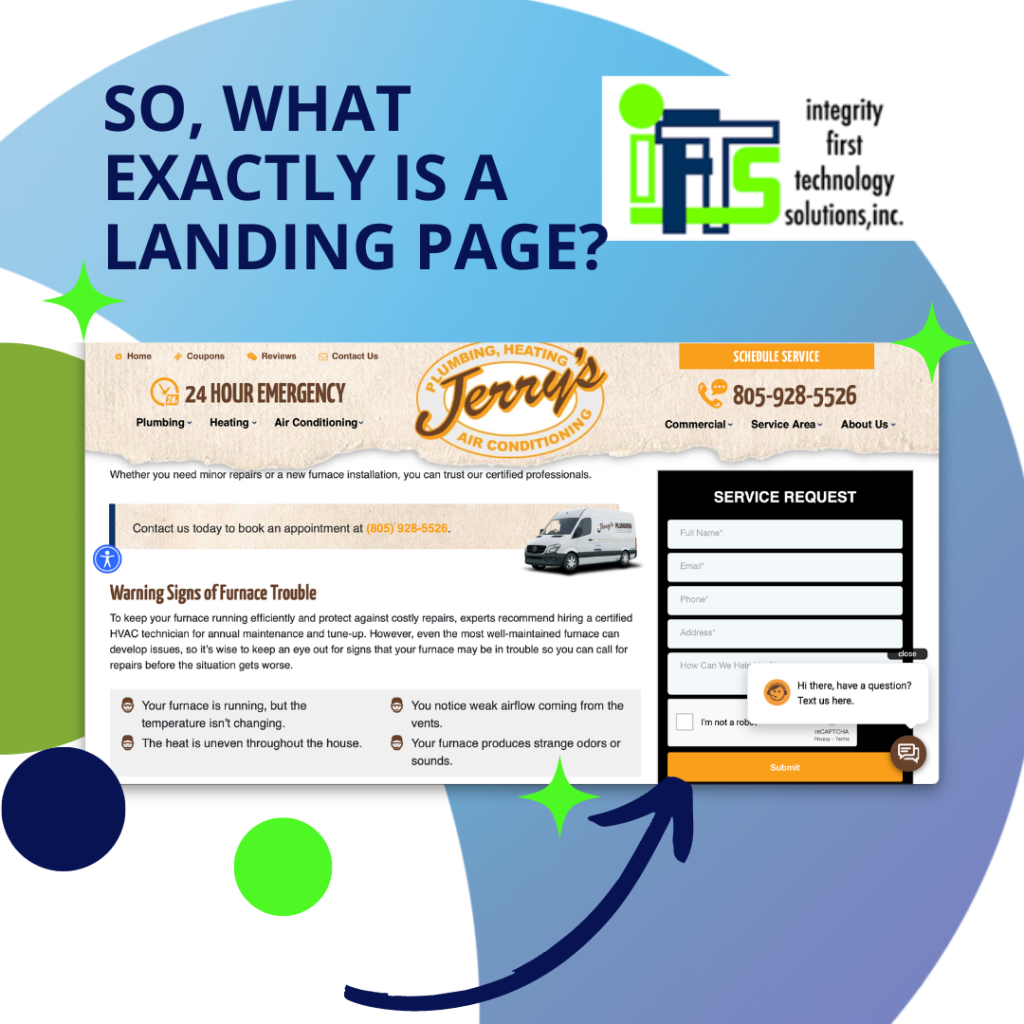 What Conversion Factors Should Be Considered When Creating A Landing Page?
Although homepages are still crucial, they are often meant to cover all that you do. They're also made to let site users dig deeper into your company in various ways.
With a landing page, you are able to control how visitors arrive on your site and direct them to do ONE THING.  When someone is searching for an exterior painter and clicks on an ad, they should be directed to a page that details the exterior painting services that your company offers. If an ad for handyman services is clicked, the user should be sent to a page with detailed information about handyman services. 
If you want a greater lead conversion rate, sending visitors to a landing page is your best bet.
Here are seven best practices for developing a conversion-optimized landing page for your painting company.
#1 - Have Only One Call-To-Action (or CTA for short)
Simply put, your call to action (CTA) is the desired next step for your site's users. You should make the CTA highly visible immediately by placing it at the top of the page. 
PRO TIP: For optimal results, have your CTAs be buttons of a consistent color throughout your landing page. Each button's text must be an EXACT replica of the others.  These buttons should stand out, so make sure that they are a contrasting color to your site color scheme.
If you want a visitor to take action after clicking on your ad and getting on your page, don't overwhelm them with options. Make sure the goal is crystal clear and easy to understand.
Make sure that your landing page consistently encourages your target action, whether that be a phone call, a scheduled consultation, or a subscription to your newsletter. Try to narrow your attention to a single step that they should take. Having too many options available can make decision making more challenging.
Be sure to provide a call to action (CTA) at the conclusion of each paragraph to help direct readers to take the next step. You shouldn't leave your audience looking for what to do.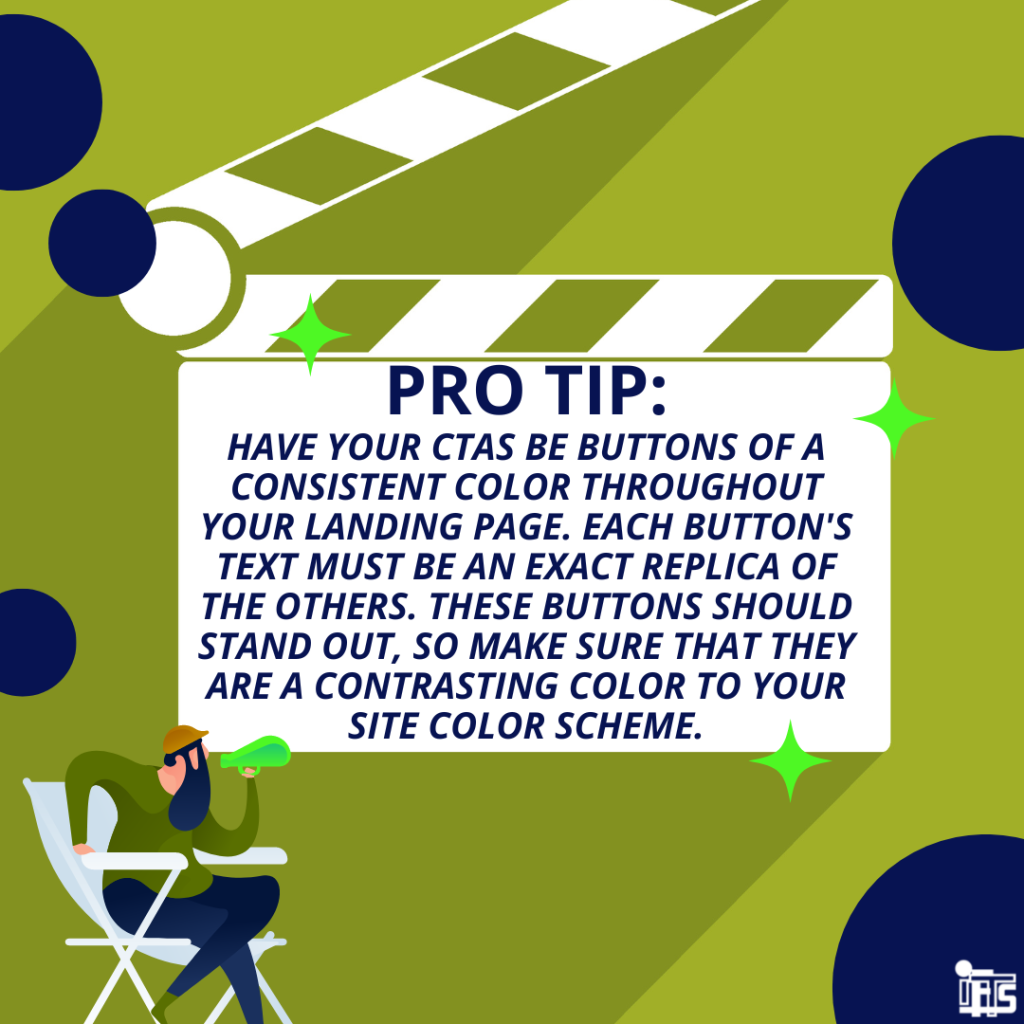 #2 - Make Your Ad Wording Match The Wording On Your Landing Page
Landing Pages require that you be consistent. Obviously, your ad must have interested the visitor enough to click on it. People will click on an ad because it addresses an issue they've been thinking about or because it came up at just the right time. 
The term for this is "Ad Congruity."
PRO TIP: Google will decrease your cost per click if the advertisements you're running are relevant and consistent with the landing page.
Inconsistency between advertising and website content can turn off potential customers. For example, offering a free consultation for interior painting services in an ad but only discussing cabinet painting on the landing page. If your landing page is not perfectly tailored to your ad, you risk losing more visitors and leads than you gain.
Everyone who lands on your page is thinking about hiring your painting firm. They'll decide if they think you can really help them out. This is where you need to focus on your clients' problems and not yourself.
To get a conversion, you need to provide your site visitors something they really want.
There is a limited window of opportunity to persuade site visitors that they have arrived at the answer to their problems. Do your best to focus on what's in it for them as you try to sway them into working with you. Describe in detail how you will manage their project stress-free from start to finish.
You need to prove your worth as a house painting business to them.
PRO TIP: reframe the conversation so that it's about the client. Use "you" and "your" in place of "we" as much as possible.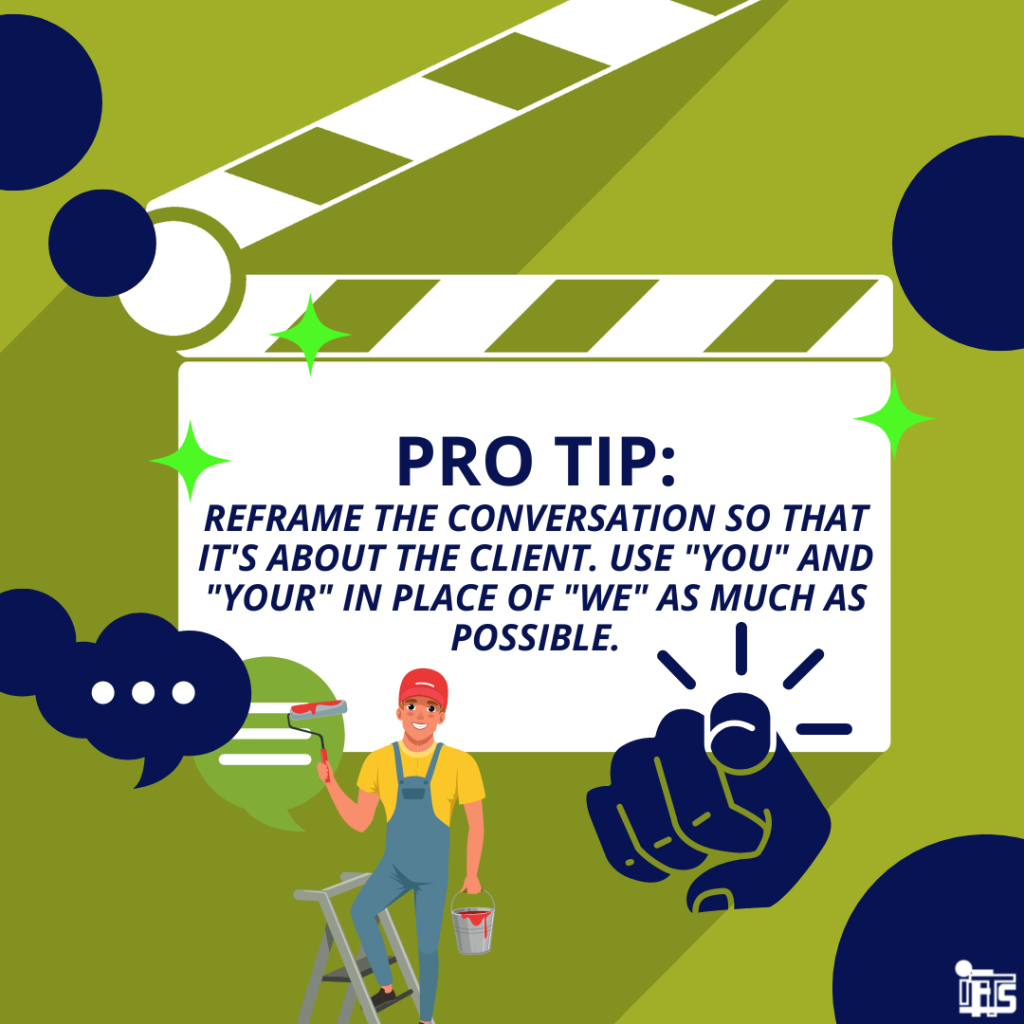 #4 - Landing Page Length Matters
How long your landing page is will depend on what you want to achieve. Do you want people to fill out a form when they visit your site? You want them to call you? Or just to teach them something in a download?
For example, if you want a visitor to call you instead of downloading a house painting brochure, you may need more content. This is because It takes a lot more work to pick up the phone and make an appointment for an estimate than it does to send an email address to find out more. So, you'll need to give them more information to show them why your company is the best choice and that you are deserving of their time.
#5 - Use A Video For Extra Persuasion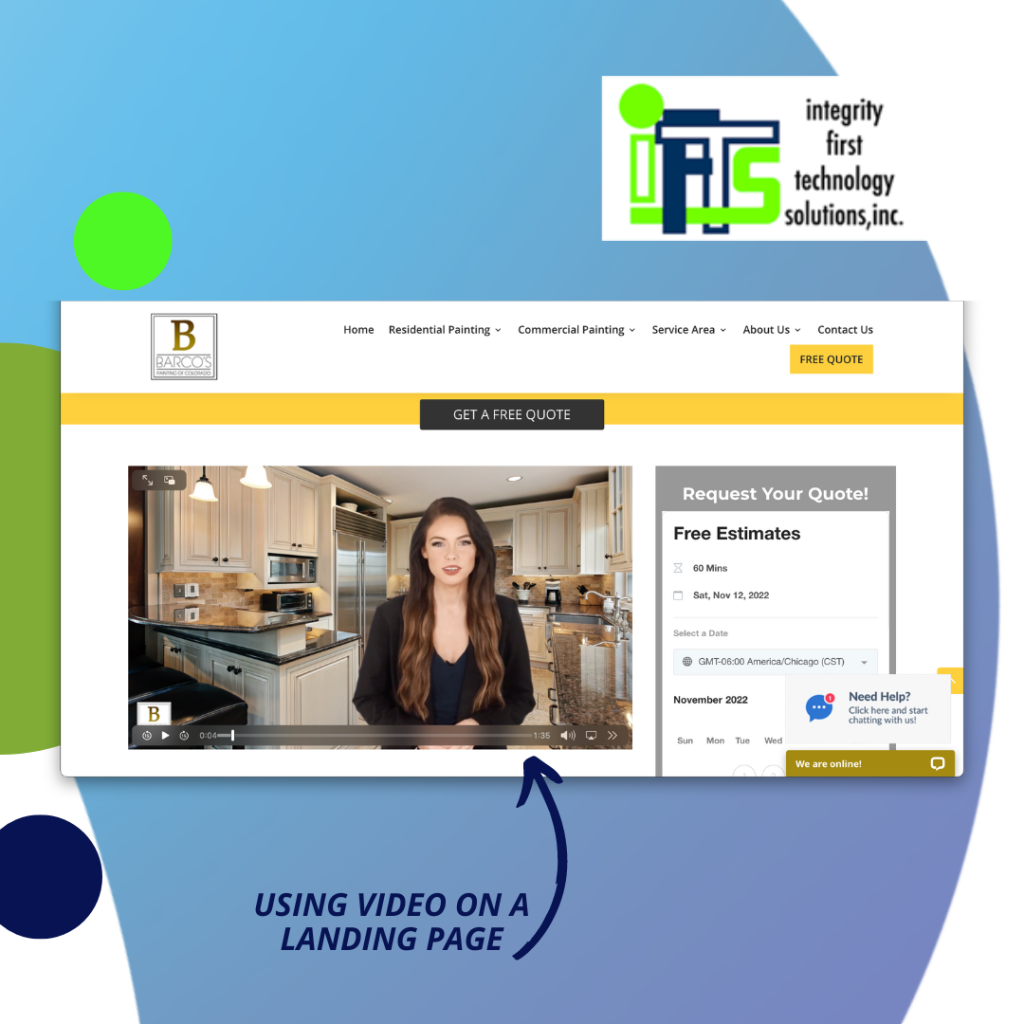 Now, putting any old video on your landing page won't help you get ahead faster. Adding video can be a real power move, but it could also keep people from clicking on your CTA. This video needs to go with the rest of your landing page and tie everything together. Keep it short and to the point, but don't make it your landing page's main focus.
The best place for a video is in the middle of the page, above the fold. Here, it won't take away from your call to action or value proposition, but it will show that you have more to offer as the visitor scrolls down the page.
#6 - Feature Social Proof
Your clients will be the best source of social proof. Include quotes and testimonials from real customers who talk about their experiences with your business. When you talk about yourself, it's usually seen as marketing fluff, but when someone else does it, it's more powerful.
Did you know that 79% of consumers trust online reviews as much as a personal recommendation from a friend or family member? Putting these reviews on your landing page will give potential painting clients the proof they are looking for.
PRO TIP: Use reviews from third-party, trustworthy sites like Google or Facebook. These look a lot better than just using text from a client on your website.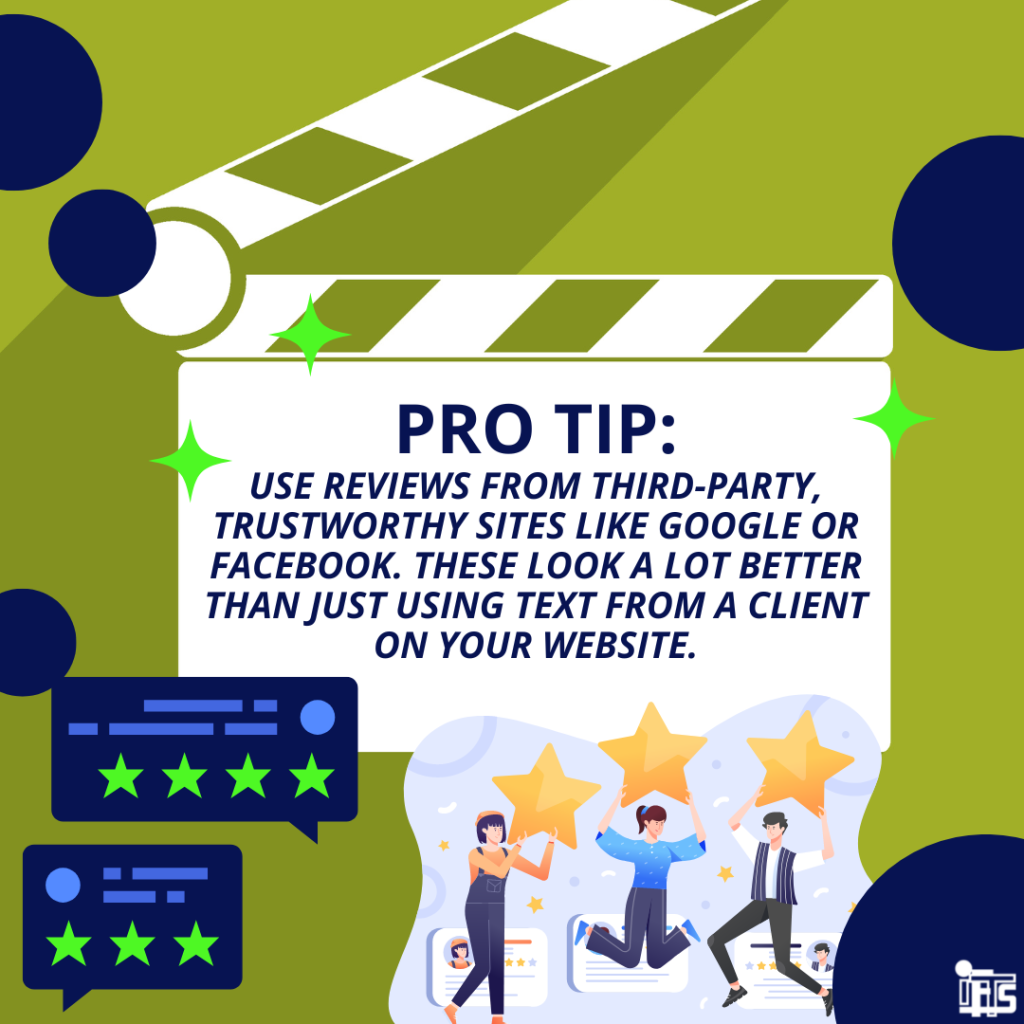 #7 - Optimize Your Forms For Conversions
Conversion rates can be made or broken by how many fields are needed. You need to get as much information as possible from a potential client so that you can follow up with them. However, if you ask for too much information, it will hurt your conversions.  People don't want to fill out a lot of fields.
We recommend using the following fields on your landing pages:
Name

Email

Phone number

Message (describe project)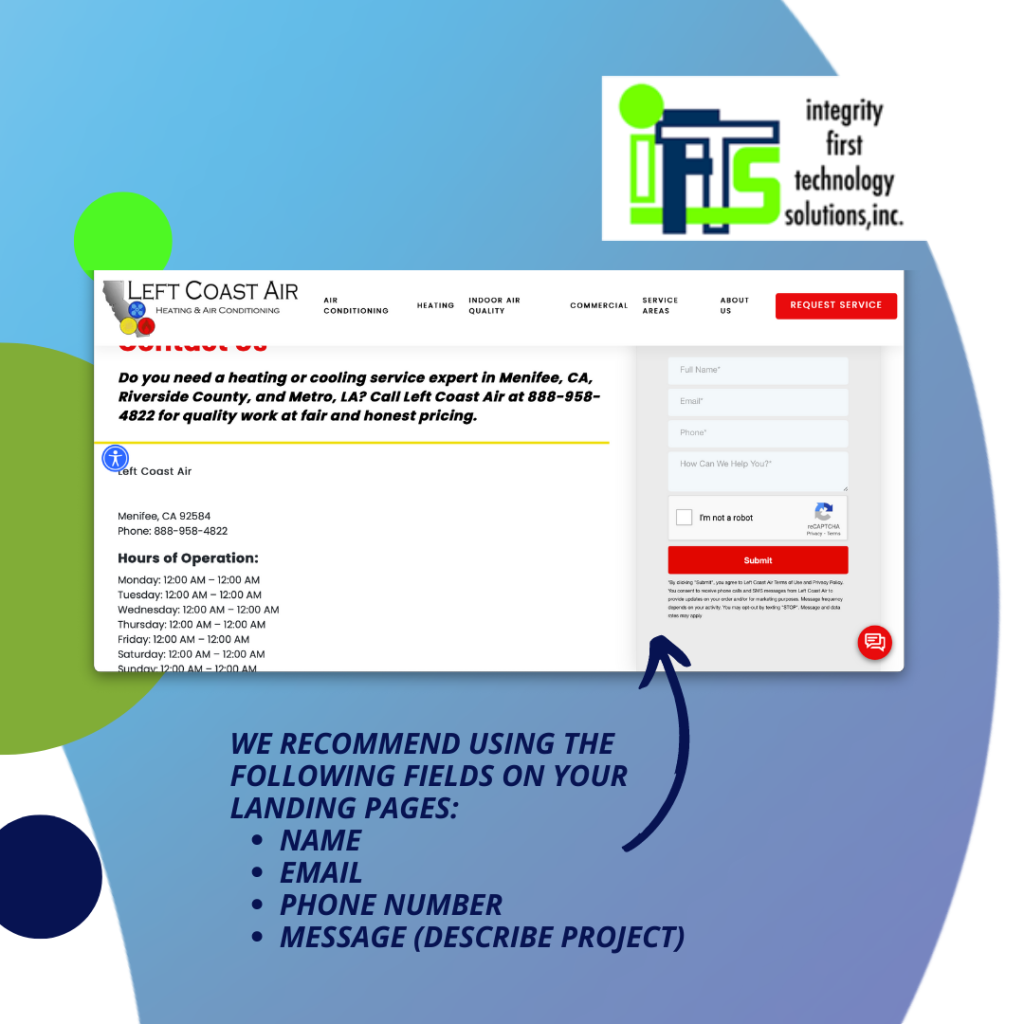 By giving visitors the option to leave a message, they can talk about their project and get in touch with the person who will be in charge of it. This will give you a chance to get ahead of the game and find out what they want before you set up an estimate.
Landing pages are the best way to turn as many visitors as possible from online advertising campaigns into customers, and you now know everything you need to know to get started!
Still not sure where to begin? Let us help you. Send me (Stacey Ivol) an email at si@iftsdesign.com or give IFTS, Inc. a call 412.715.6266 for a FREE consultation.