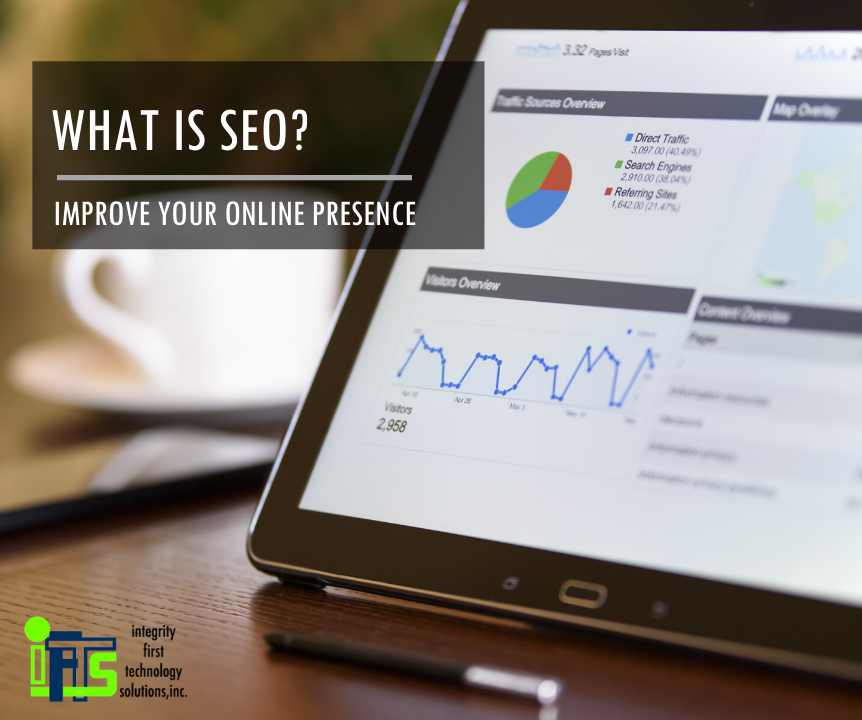 SEO or Search Engine Optimization is the process of optimizing your website to drive targeted, organic traffic from search engine results pages (SERPs) to your website. Creating high-quality, relevant content that is optimized around specific keywords, building backlinks, and having a properly formatted website are just a few of many common ways you can improve your SEO.

It's obvious that search engines want to show their users the best results so of course they are going to deliver search results on high-quality, relevant pages. Making your website more attractive to the search engines is what SEO is all about!
What goes into SEO?
The best way to increase the quantity and quality of traffic to your site through organic search engine results is by making changes to the layout of your website as well as the content that is displayed on your site to make it stand out to a search engine.

To understand the true meaning of SEO, let's break down the three main parts:
Quality of Traffic
The quality of traffic directed to your site is of the utmost importance. Your site can attract numerous visitors, but the only views that matter are the visitors that are genuinely interested in products or services that your business offers.
Quantity of Traffic
Once you have the right people clicking through to your site from search engine results pages, the more traffic the better.
Organic Results
Ad's make up a significant portion of many search engine results pages. Organic search traffic is any traffic directed to your website that you don't have to pay for.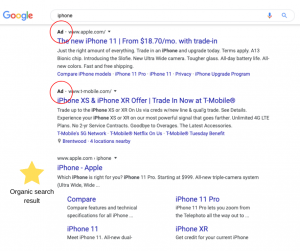 Favoring quality over quantity in building your content will result in more clients!
Factors That Impact SEO
There are many elements that can impact your website's ranking including both on-page and off-page factors. These factors will be discussed in detail below but first, let's discuss content.
Content Marketing
The type of content produced is going to be the most important factor in attracting the search engines and connecting with site visitors.
Having more relevant, higher quality content pieces on your site, will give you a better chance of being ranked higher on SERP's by the search engines. Creating content that is engaging to visitors will most likely have them spending quality time on your site.
When creating content that is optimized for specifically for your site visitors as well as search engines, try to relate to your audience and have a variety of content pieces that are most relevant to them.
Examples of content that can be added to your site to help improve your search engine rankings are:
Informative videos

Infographics/visual content

Blog Posts

Linked social media profiles

How-to guides
When creating optimized content for your site that is SEO friendly, be sure to take popular keywords and phrases into consideration. Think about combinations of words and phrases that a typical user would type into a search engine to find answers to their questions or more information on products or services. Creating your content around these certain keywords and phrases will help tremendously with improving your chances of ranking higher on search engine results pages.
Creating brand new, fresh content is another factor that can impact your search engine ranking. Frequently posting new content to your site, updating posts, and adding new information are all ways to keep your content fresh. 
On-Page SEO
On page seo factors all have to do with the elements of your own website. The good news here is that these are things you have complete control over! Over time, you can work to improve these factors by optimizing both the content on your site and the HTML source code of a page.
Want to improve your search ranking? Check out these on-page SEO factors that can help do just that:
Title Tag 
The most important of all tags on your page is the title tag. The title tag outlines what the page is about; it is what users see on the search engine results pages, and also the words that appear at the top of each tab in your browser. 
Meta Description
The meta description tells search engines and helps visitors understand what your site is all about. A well written meta description can create a higher click-through rate with a greater chance of conversions, generating a competitive advantage.
Heading Tags 
Headings can be used to represent different sections on your page and should include multiple tags. H1 is the most important tag on the page and you should never have more than one. You can include multiple subheadings; h2's or h3's as users scroll down the page to represent different sections. 
Image Name & ALT Tags
When using images on your website, make sure to include your keyword in the image name or ALT tag. This is such a great way to help search engines better index your images and they can even appear when users search for images with that certain keyword.
Internal Links
A great way to help search engines learn a lot more about your site is by building internal links to other content on your website. An internal link is a link from one page to another page on the same domain. Internal linking allows users to easily navigate a website and help spread ranking power. Search engines use these links to navigate your website which is important because they will not find a page if there are no links to it.
Off-page SEO
Google and other search engines also take many off-page SEO factors into account when choosing what web pages are going to rank in each position. Off-page SEO is everything that takes place outside of your website, but still contributes to your ranking. You do not have complete control of these off page factors as you did with on-page SEO, but there are effective ways to improve your search engine rankings outside of the factors associated with your website.
The following are some off-page SEO factors that can help improve your search ranking:
Backlinks
Having high quality backlinks to your site is one of the most important factors of off-page SEO. You can get backlinks to your site by engaging in social media activity, influencer marketing, blogging and regularly creating high-quality, shareable content. 
Social Activity
Social signals such as likes and shares are another important factor of off-page SEO. Receiving quality shares from influencers is a great way to boost SEO. The more creative, relevant content you post to your site will result in the likeliness of people sharing your content with others.
If you would like help with your SEO plan, please contact IFTS for your free one hour consultation.