They say that when it comes to SEO that "Content is King", but how exactly does that apply to house painting businesses?  
Well, you are about to find out!
Good website and blog content is a prerequisite for good online traffic, which should turn into leads.  But, how do you know what to write about?
There are many strategies for choosing a relevant topic to write about.  We are going to cover 4 popular ones.
All you have to do is enter a keyword or phrase into their search box and it will return a bunch of popular ideas about your topic.
In the example below, we used "house painting" and look at all of the different subjects you could use: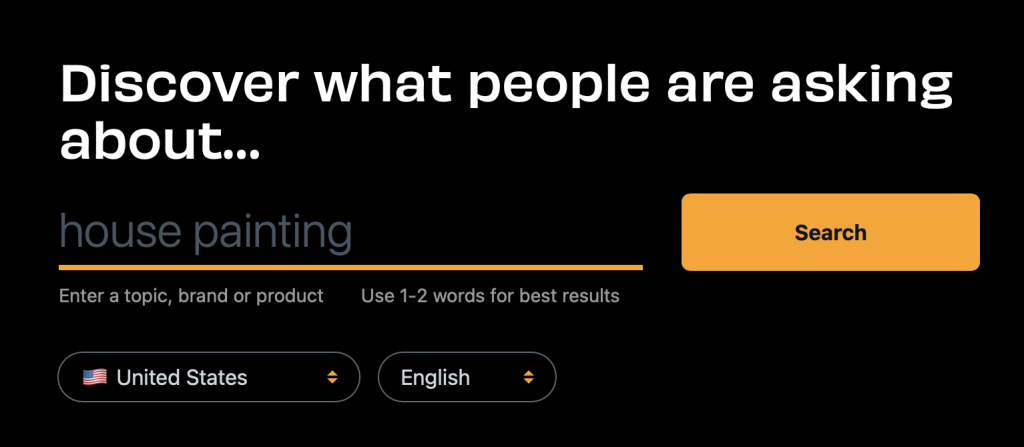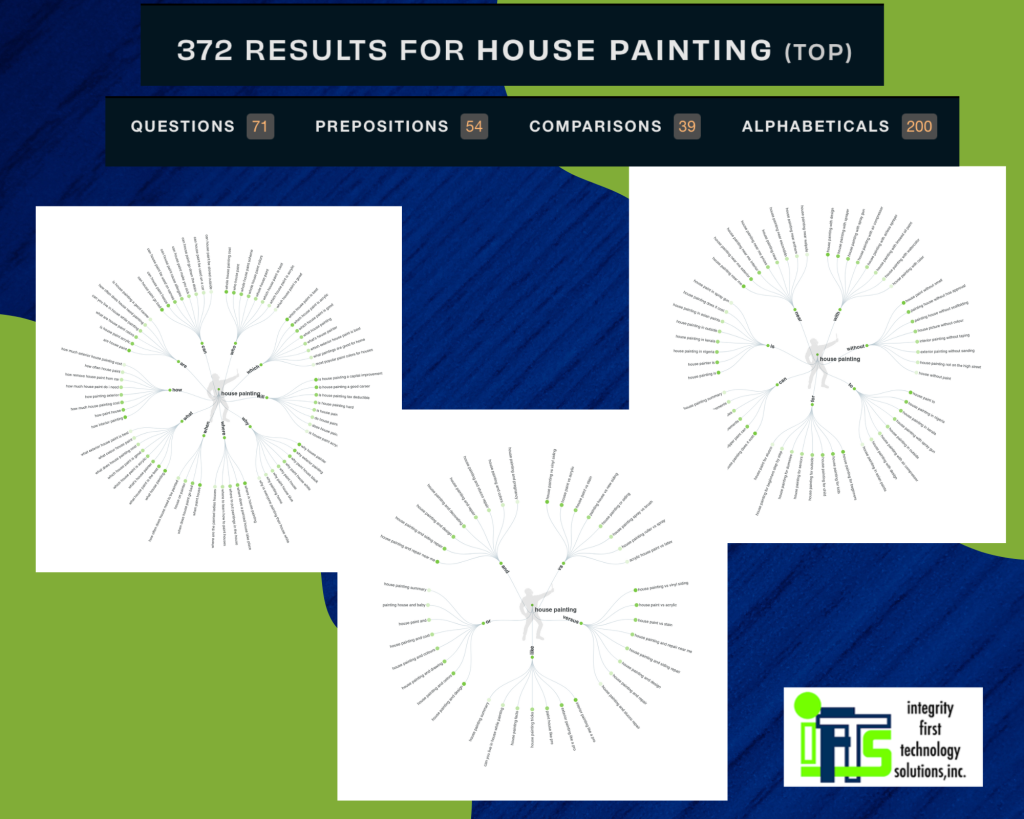 This is a tool (that has a free version) which will tell you how popular a search term is.  It will also give you common questions that people Google about your search term.  
Check out the example below.  We used the same term "house painting" and these are the free results that Semrush gives us about our topic: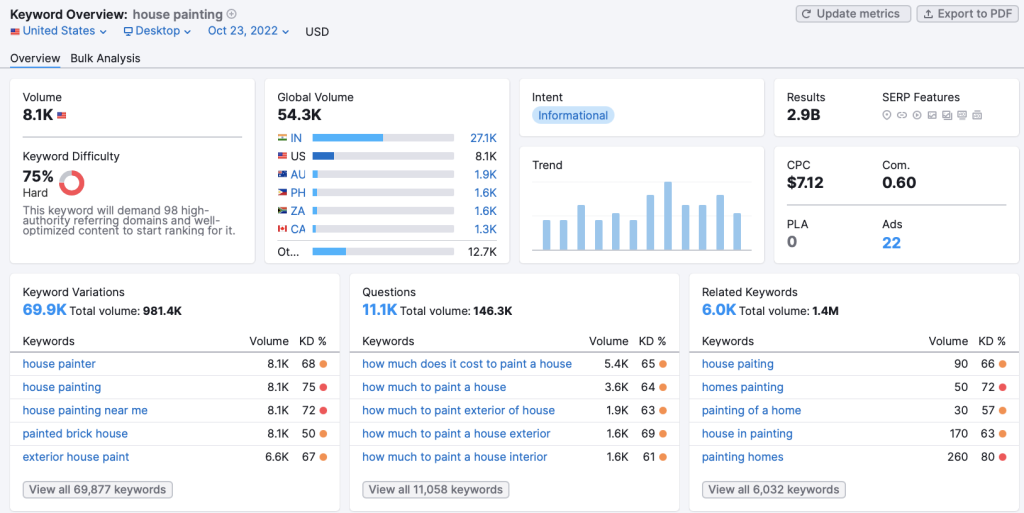 Feeling stuck or not sure what to write?  The Semrush results also include the top 10 pages that rank for your keyword.  Open them up and do a little "spying" on your competition to see what they are writing about.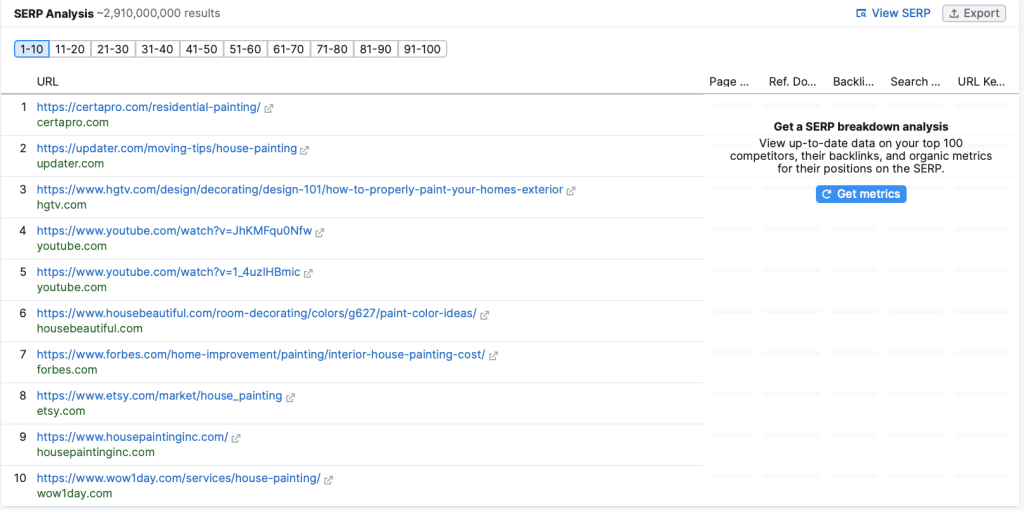 Ahrefs is a tool that is very similar to Semrush.  You can find the popularity of a keyword, relevant questions that are on topic, competitor links and more.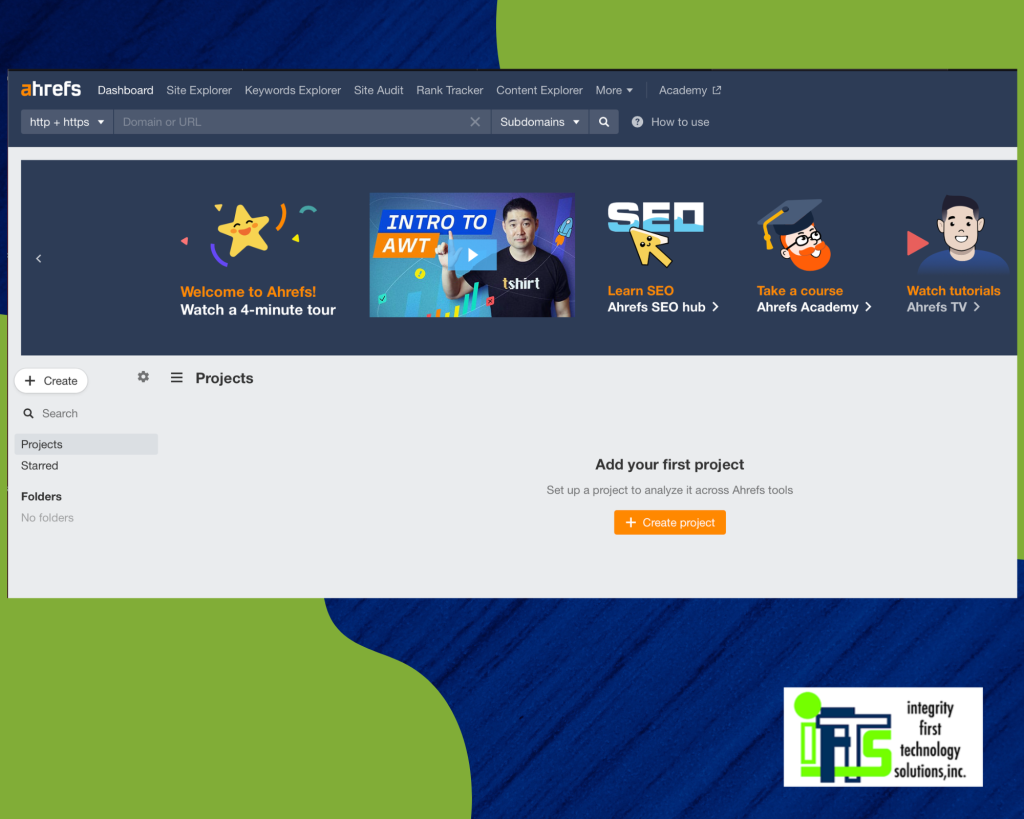 Strategy 4 for finding a topic - BuzzSumo's "evergreen score"
Buzzsumo's evergreen score can show you popularity trends of a subject.  You can see if the content is long lasting or if it was short lived.  You may be able to grab some ideas from the longer lasting posts.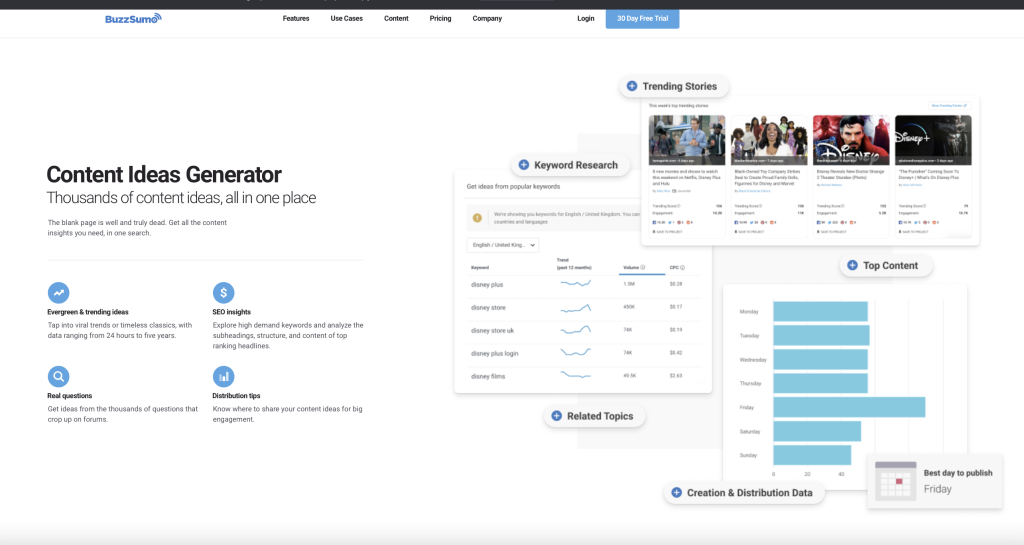 Once you have a topic chosen, you'll need to decide how to present your information. 
FINDING THE RIGHT BLOG TEMPLATE
There are many common blog templates that you can use.
Blog Template 1 - Expanded List Post
The list posts template consists of a compiled set of tips/tricks that readers can implement in a variety of settings.  The only difference between a standard list post and an expanded list post is the adding of further information for each item on your list.
Here's an example: Power Washing Tips & FAQ
Blog Template 2 - Case Study From Your Business

Your Case Study Post offers a solution to a challenge that the audience you are trying to reach frequently encounters. By showing that you can fix this problem, you are quickly regarded as a knowledgeable authority on the subject. There is just one caveat to this. You have to demonstrate that your solution is effective.
Here's an example: Stain or Paint A Deck: Best Practices
Blog Template 3 - Tools We Use
This provides a rundown of several resources that can be utilized in a particular field. It is not restricted to tools; rather, it can be a strategy, a practice, or even a life hack in addition to a tool. As long as the list provides value to your user, you have latitude in what all in can encapsulate.
Here's an example: Painting over and/or removing wallpaper: 3 Rules, 6 Steps
Blog Template 4 - The Ultimate Guide
Blog Template 5 - The Complete List
CREATING THE RIGHT HEADLINE
Headlines are the most important part of your content because they get people to actually click and read the blog.
Some helpful tips for writing your headline:
make sure that it is no longer than 18 words long

include your main keyword in the headline

make it interesting by adding [brackets] or (parentheses) around a phrase

use "emotional" words to invoke a response (this includes things that will make the reader happy, sad, angry etc.)
Now that you have chosen your headline, topic, and template, it's time to start writing that blog for your painting business!
Let's start at the beginning, it's a very good place to start (or so says Julie Andrews in the Sound of Music).
Your introduction should be short, catchy and to the point.  Common ways to pull people in are:
ask a question

make a statement contrary to popular belief

state a fact with a weird number in it
You'll want to keep your introduction around 4-7 sentences.  Pull in the reader and tell them what they are going to learn.  To see an example of this, look no further than the beginning of this article.
It starts with a question to draw you in and then tells you about what you are going to be reading about.
After your introduction, you will transition into the meat of your blog and cover your topic in depth.  Most articles that rank well on Google have at least 1000 words and are formatted for SEO.  For more on SEO, check out this IFTS article.
While you are writing, remember to keep these tips in mind:
use short paragraphs because people typically skim, so it's best for your content not to appear as a wall of text

use section sub headers to divide the information into digestible chunks that are easier to read

use the active voice when writing (here's a little info to help you remember active vs passive voice from middle school…don't worry, I had to look it up too)

use a font about 14 pts so the text is easy to read on all devices

people are visual creatures, so any time you can include a picture, chart, infographic, screenshot, video – the better
The final paragraph will be your conclusion, which is your second most important section next to the introduction.  The intro gets people to read, the conclusion gets people to stay on your site or buy your service.
A good strategy for writing the conclusion is called TAC.
T – Transition
A – Ask
C – Call to Action
The TRANSITION to the conclusion is how you want to end your blog information.  Then, you'll want to ASK your readers a question, normally about a problem that you can solve.  It's best if the problem relates to what the main blog text is about.  Finally, you'll want a CALL TO ACTION, where you tell them to get in touch about the problem. To see an example of this, check out the ending of this blog.
A really easy way for house painting businesses to create content is with the "Case Study" template.  Use before and after pictures/videos from a job that you recently worked on.  Talk about the issues that the owners were having and how you solved it with your services, using your visuals as proof.
A case study really lends itself to being local SEO-friendly because your keyword phrase would be "house painting in [location]" or "Cabinet Painting in [Location]".
If this sounds like something you would be interested in having someone else do, let us know!  IFTS specializes in helping house painters create quality SEO-friendly content for their websites to get more leads.  Call 412-715-6266 or send an email to si@iftsdesign.com to get started.