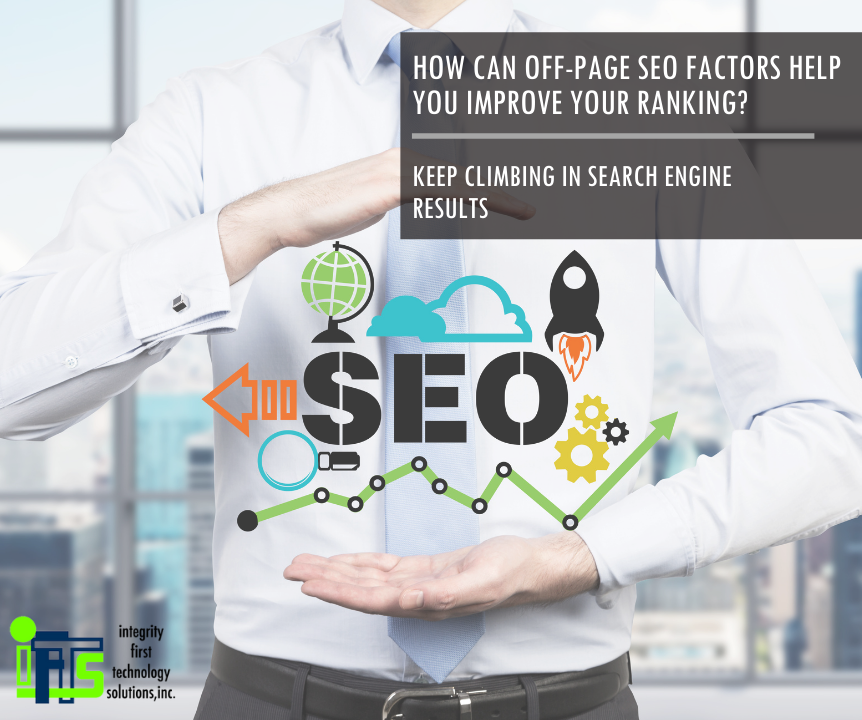 How can off-page SEO factors help you improve your ranking?
Off-page SEO is all of the factors that contribute to your search ranking, yet take place outside of your controlled business environment. These factors cannot be directly controlled by you, but there are ways that you can improve your search ranking outside of improvements to your website and online profiles.
With on-page SEO, factors that you can control, you are able to optimize things such as your website structure and content. This allows you to structure your website to emphasize chosen keywords and phrases. You can create optimized content with a solid site structure that loads in just a couple of seconds, but all of that is nothing without being able to bring in many site visitors and potential customers.
On-page SEO and off-page SEO work hand in hand as they are both equally important pieces to the puzzle.
So, what makes up off-page SEO and how can these factors help improve your search ranking?
Backlinks – What are they?
A backlink, also known as an "inbound link" or "incoming link", is a clickable link to your website from another website. Having high quality links to your site is one of the most important factors of off-page SEO. This is because search engines determine the value of content and websites using these links.
The number of backlinks to your site indicates the popularity or importance of that website. Sites that have a number of high-quality backlinks are given higher priority in the search results for relevant terms.
Backlinks – Why are they important?
Google sees each backlink to your site as a "vote" that the webpage the link is pointing to has quality content. The more high quality backlinks that your website has, the more "votes" you receive. This will ultimately make your site more trusted by the search engines, thus improving your site ranking.
Check out our blog, "What Are Backlinks and Why Are They Important for your Website?" for more detailed information.
Link building is one of the most popular, most effective off-page SEO techniques. It will increase your ranking, but you also need to remember that it favors quality over quantity.
It doesn't really matter how many backlinks you have in total, but it is more important to see where these links are coming from. This information will dictate your overall rating. If you're serious about ranking on search engine results pages (SERP's), getting quality links to your site is the best approach.
How to get natural, high quality backlinks to your site
There are many ways you can get high-quality backlinks to your site. This can be done through social media activity, influencer marketing, blogging, and creating high quality, shareable content. The more creative, relevant content you post will increase the chance of people sharing your content with others.
Social Activity
Did you know that marketing on social media is an off-page SEO activity?
This is called social media SEO, which relates to your activity on social media and how that can increase your website's organic traffic on SERPs. There is no doubt that social media and SEO help each other. However, social media does not directly contribute to SEO – meaning, social signals such as likes, shares, and views will not help you rank higher.
Sharing links on social media will definitely increase brand exposure, but Google does not see this as a ranking signal. Now, here is where things get tricky: even though social media does not directly contribute to ranking, it does still have significance. Social media indirectly has a positive effect on a page's ranking.
Here's why:
How Social Media Supports SEO
You create and post informative, eye-catching content
That content is then shared and linked to by your audience
Your social media profile attracts new followers and your website receives traffic
There is a community growing around your brand
You now receive consistent interactions through social media, and you build authority
Search engines will now index your website higher on SERP's
Now, users can organically find your site through search engines
If you look at social media accounts of top ranking websites on Google, you will find that they have strong social signals. Although Google typically ignores social signals, they essentially work together. This is why search engines are becoming more social and social networks can be seen as valuable search engines.
SEO is about gaining organic traffic to your website. Social media marketing is about getting found on social networks by the right crowd. Both social media marketing and SEO may look different, but what makes them work hand in hand is their overlapping goal of gaining more visibility.