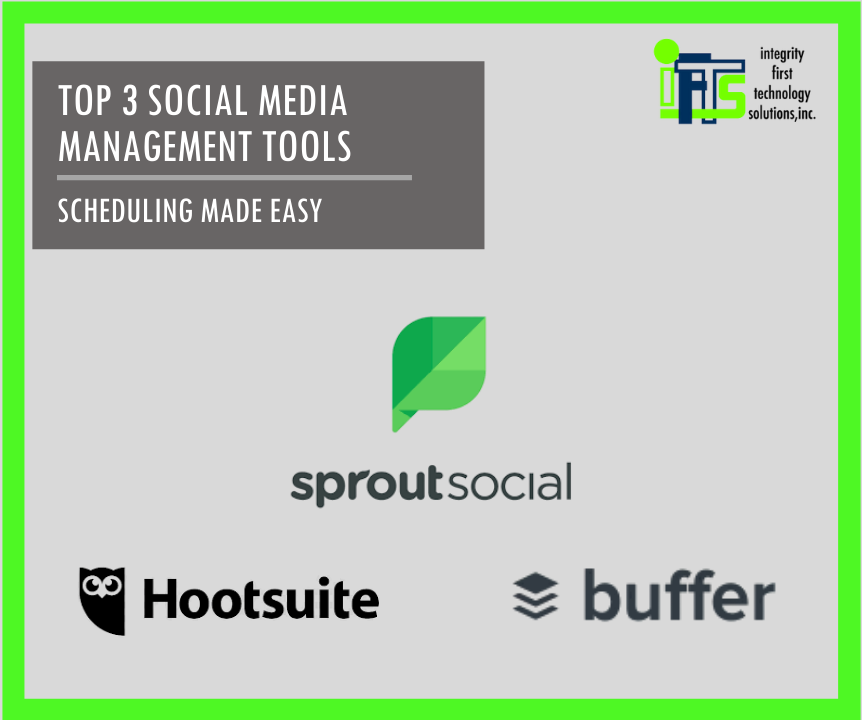 A strong social media presence can help your business in a multitude of ways, but keeping up with posting on multiple social platforms can be a chore. Thankfully, there are social media management tools out there to make the job easier and help you manage every one of your social profiles and pages in one place, so you can spend more time on other aspects of your business. These tools are designed to save you time and help you build an audience.
In this post we compare the top 3 social media management tools, Sprout Social, Buffer, and Hootsuite, if you need help deciding which may be the best fit for you.
What makes a good social media management tool?
Buffer, Sprout Social and Hootsuite all cater to a broad range of social networks. Facebook, Instagram, Twitter, and LinkedIn – the four most popular social channels are compatible with all 3 of these social media management tools.
People mainly turn to social media management tools for the convenience of scheduling posts which makes it extremely easy and convenient when coordinating multiple campaigns.
Given the ability to schedule and post across all of your social networks at once is going to save you a lot of time- especially when you wear many hats within a business. If the convenience of posting to all of your social accounts at once isn't enough, you also have the ability to tag locations on Facebook and add hashtags on Instagram posts.
Top 3 social media scheduling tools
Buffer
Buffer is the most straightforward tool to use for scheduling your social media posts and also allows you to measure your performance on social sites, create reports, and gain insights to grow engagement.
Buffer supports the 4 most popular social channels: Facebook, Instagram, Twitter, and LinkedIn, and Pinterest updates can be scheduled for pro users.
Buffer is great for collaboration within teams – but only if you are willing to pay for a more expensive plan.
Buffer's free version includes one user, 3 social media accounts and 10 posts per profile. Their Pro plan is ideal for those who are just getting started. This plan is $15/month and includes one user, up to 8 social accounts and 100 scheduled posts. An option for growing brands would be the Premium package ($65/month) where you can add up to 8 social accounts, schedule 2,000 posts and have 2 users. Now, Buffer has an ideal option for larger teams coming in at $99/month that includes up to 25 social accounts, 2,000 scheduled posts and 6 users on the account.
Sprout Social
Sprout Social is a great all in one tool for managing and scheduling all of your social media accounts through one platform.
Sprout Social stands out for its ability to handle team interaction. Several team members can collaborate on drafts and you can distribute permissions or request approval before posts are published. Sprout Social also makes it easy to assign tasks to other team members. Although Sprout Social is the best management tool for team-based social media management, you have to pay the monthly fee per user.
Sprout Social offers a free 30-day trial. After that, prices start at $99/user per month for up to 5 different social profiles. They offer additional plans that include more profiles and features.
Hootsuite
Hootsuite is the best management tool for scheduling as well as analytics. With this tool, you can connect 35 social networks including the top 4 – Facebook, Instagram, Twitter, and LinkedIn.
If you are looking to make use of the analytics feature, Hootsuite is the tool for you. Hootsuite will help you understand the results generated from your social posts to measure your performance. From there, you can generate reports to use within your organization.
Hootsuite works great for individuals as well as teams. You can assign access to team members and customize permissions for each individual user. You can even assign specific tasks to your team members (like responding to comments or incoming messages), then approve the outgoing responses before they're sent.
There are 3 different plans available that include unlimited scheduling, where the difference lies in the amount of users and number of social profiles that can be connected. Professional plan allows one user and up to 10 social profiles. Team plan allows 3 users and up to 20 social media profiles. Business plan allows 5-10 users as well as up to 35 social media profiles.
Which social media tool is best for you?
Hoostuite takes the cake at being the all-in-one tool that has the biggest list of compatible networks. It offers more analytical tools that go just beyond scheduling your own posts. The business plans are moderately priced, so if you're looking to use it within a large organization it's likely worth it. For no-frills social media management, Buffer is the most straightforward tool that focuses on sharing your posts while it allows for simple team interaction. Buffer is ideal for your typical business that is just getting started and doesn't have a ton of resources to devote to social media. Sprout Social ranks #1 as it has the best collaborative features of the three but it comes at a premium price point.