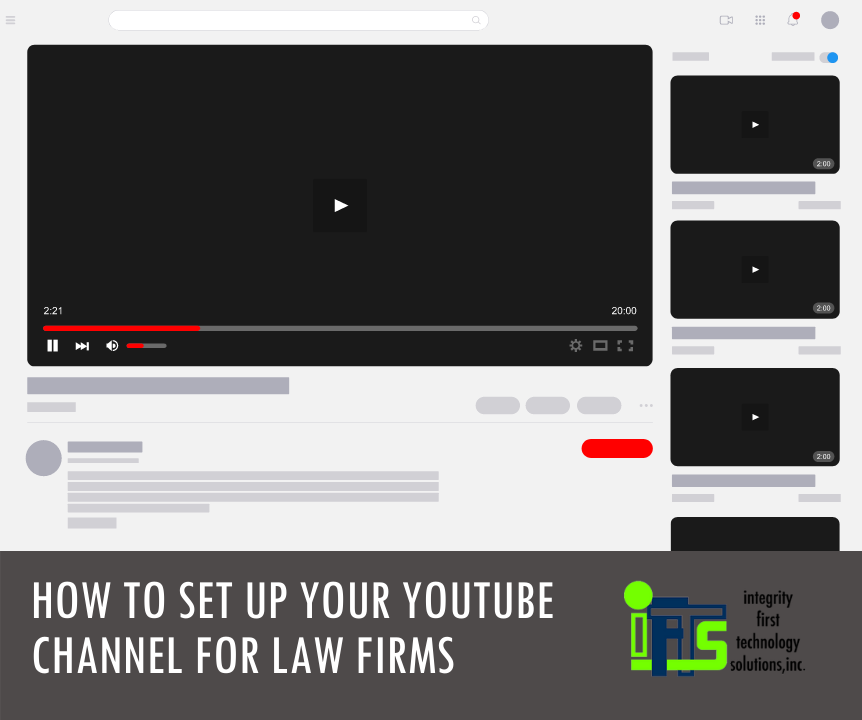 Did you know that YouTube reaches more people in the 18-49 demographic on mobile alone than any American cable TV network?
Setting up a YouTube channel for your law firm is easy and only takes a few minutes. In this article, we are going to walk you through 3 easy steps to set up your YouTube channel and explain how video marketing can benefit your law firm.
Set Up Your YouTube Channel In 3 Easy Steps
1. Sign in to YouTube
Go to YouTube.com and click the sign in button in the top right corner of the page. If you have an existing Google account, use that email and password to sign into YouTube.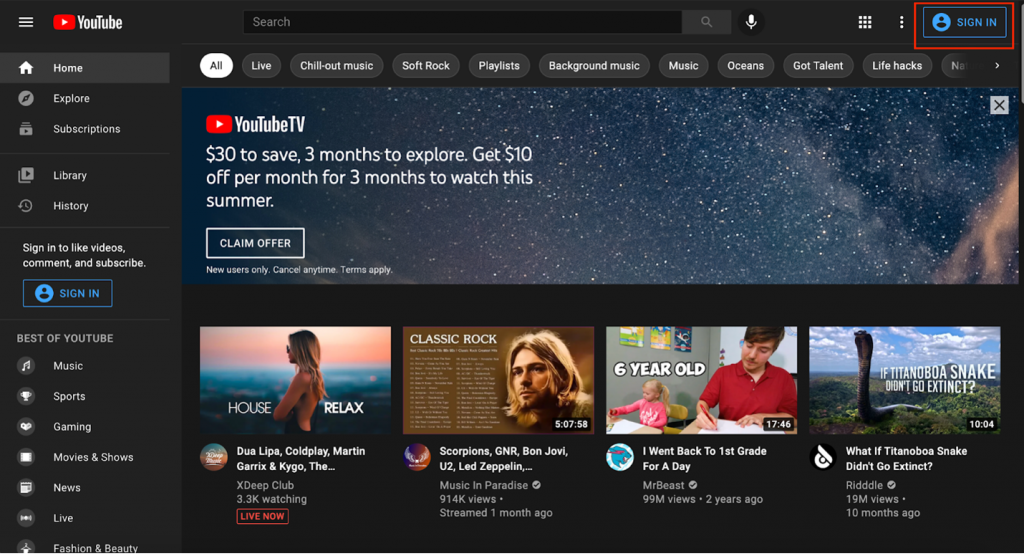 If you do not already have a Google account, you can easily create a Google account directly from YouTube by clicking 'create account'.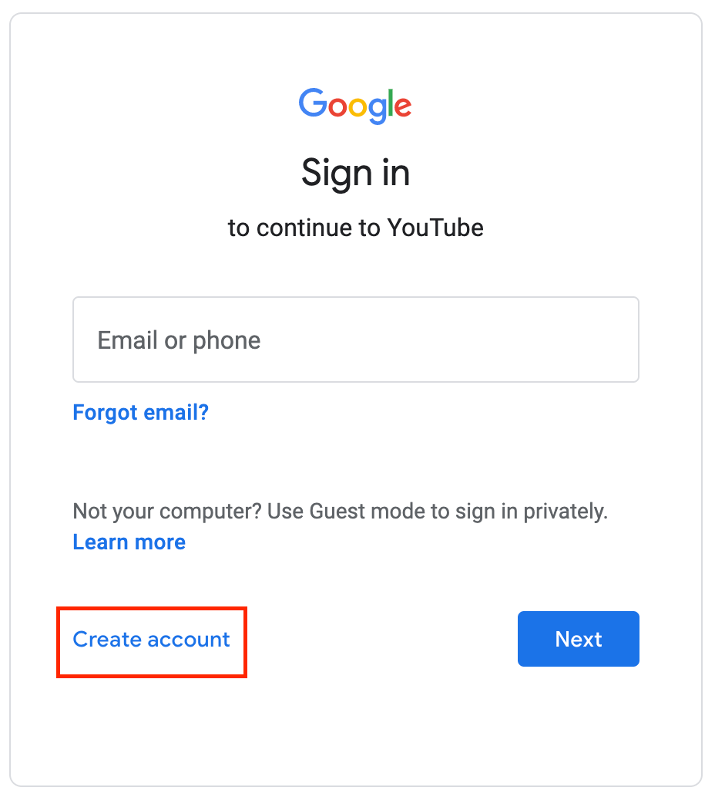 Keep in mind that a Google account and a YouTube account are not the same thing. This is a common misconception.
Your Google account can be used to sign into YouTube to watch and like videos or subscribe to your favorite channels. When you are signed in, you will also get personalized recommendations based on your activity.
Now, having a YouTube channel allows you to upload your own videos for your firm to have a public presence on YouTube.
2. Create Your Channel
In the top right corner of the screen, you will see your profile icon.
Click on the circle icon and select "Create a Channel".

From here, you will be prompted to choose your channel name and profile picture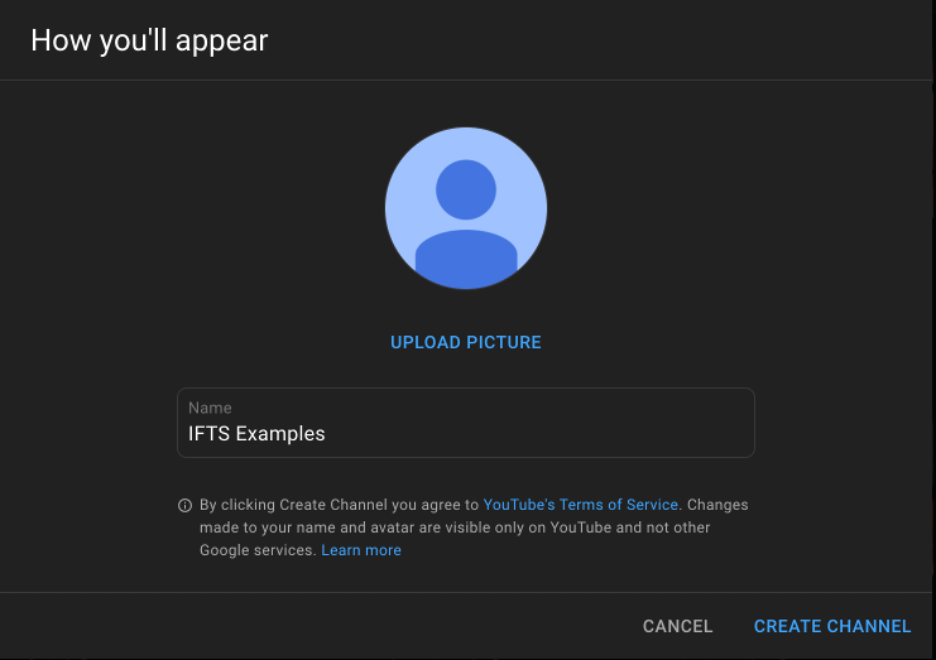 3. Customize Your Channel
This step will help make your channel welcoming to visitors and help with your SEO.
First, visit the customization tab in YouTube studio.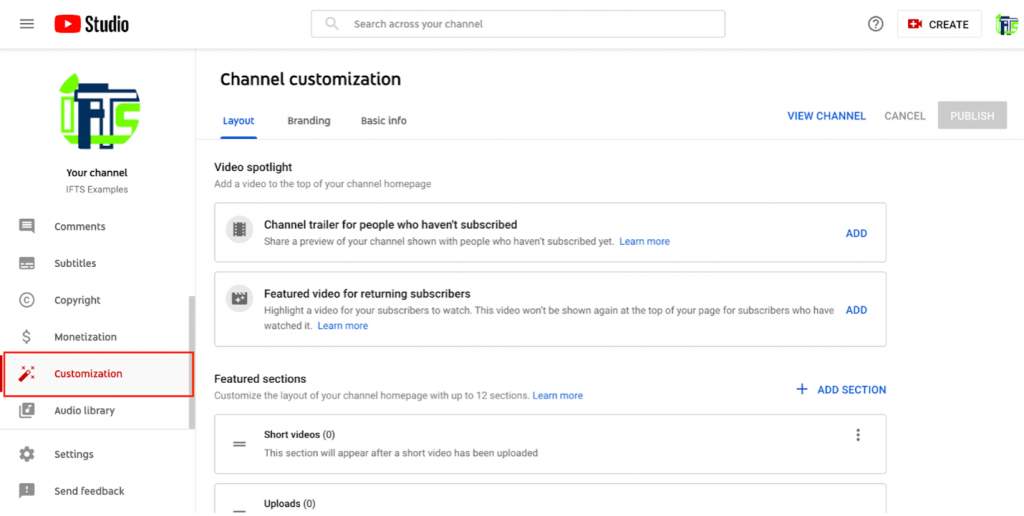 Layout Tab
Under the "layout" tab, you can select and organize what users will see when visiting your channel. A video spotlight will be the main video that someone will see when visiting your channel. For those that aren't subscribed to your channel, you can add a channel trailer. This is nothing but a quick video that highlights what you create and what people can expect from your channel.
You can also add featured sections that will allow you to organize your content in any way you'd like for viewers to see when they arrive at your channel homepage.
Branding Tab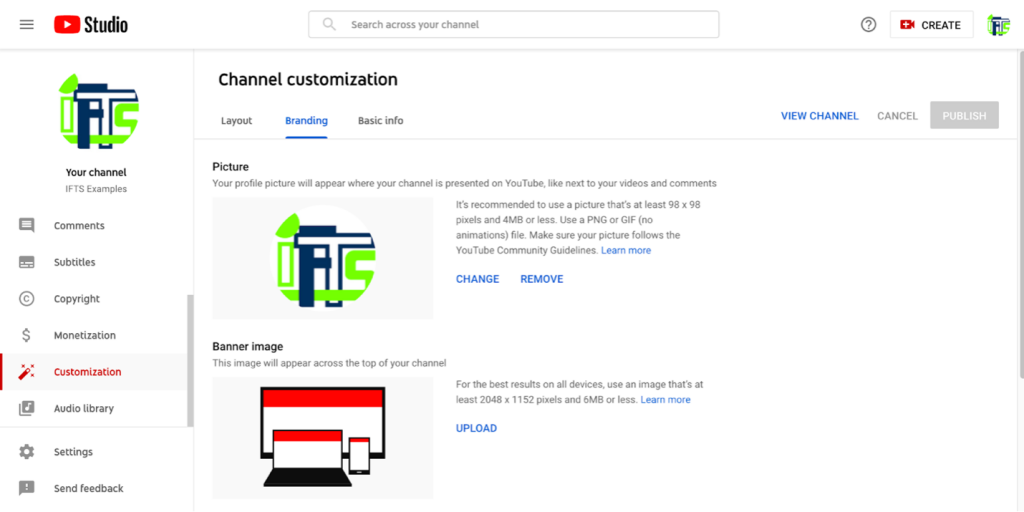 Under the branding tab is where you can find the customizable elements such as your profile picture and banner image.
Your profile picture is going to appear wherever your channel is represented on YouTube. Your profile picture must meet the following requirements:
JPG, GIF (not animated), BMP or PNG file
Recommended 800 X 800 px image
Square or round image that renders at 98 X 98 px
If you know what a Facebook cover photo is, a YouTube banner image is very similar. This is a banner that will appear at the top of the page when someone visits your YouTube channel. With this, you can show off your personality and a little more about yourself and your firm.
For the best results, your banner image must meet the following criteria:
Minimum dimensions of 2048 X 1152 px with an aspect ratio of 16:9
Safe area for text and logos at the minimum dimensions: 1235 X 338 px
File size: 6 MB or smaller
Basic Info Tab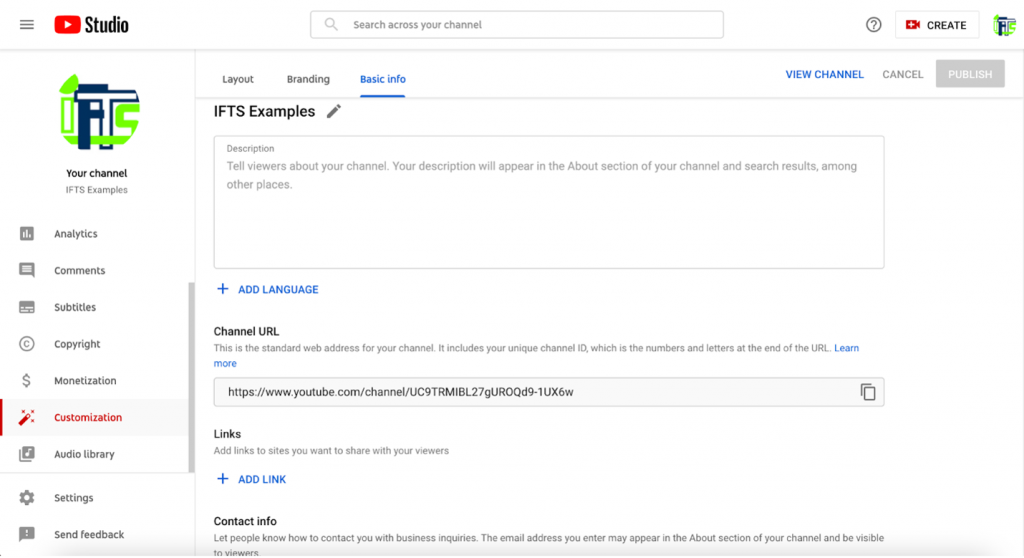 Under the basic info tab, you can make edits to your channel name & description, add translations in other languages, add links to sites that you want to share with your viewers (such as your firm's website) and add contact information if you would like people to be able to email you with inquiries. Make sure to link back to your firm.
After making changes to any of these tabs, always be sure to hit the "publish" button to make your edits live on your channel.
Now it's time to create content for your YouTube channel!
Most people think that creating a video for their business is really time consuming or that you need expensive equipment to start – Not true! All you need is your smartphone and a location that is relatively quiet with good lighting.
Create and optimize your firm's YouTube videos to get the most out of your YouTube channel. In this blog post, learn how to create your videos from choosing a location, to finding a topic and editing your video. (We even include a secret step that not many people know about.)
How Video Marketing Benefits Your Firm
Did you know that 72% of people say that they would rather learn about a new product/service by watching a video over reading text?
Video marketing allows you to promote your firm on social channels that can increase overall engagement while educating your audience in a creative way. In other words, it gets more eyeballs on information that you provide.
Developing a strong video marketing strategy for your firm can provide the following benefits:
1. Reach a wider audience
With a large percentage of people preferring to watch an informative video over reading text, you have an opportunity to reach even more of your target customers. Think about the benefit of someone being able to watch you explain the benefits of hiring an attorney to create a will or how a DUI firm helps people get their DUIS expunged from their records by following the proper sequence.
2. Increase revenue
Did you ever think that creating videos could put more money in the bank? Businesses that implement a video strategy increase their revenue 49% faster year-over-year than those that do not use video. Many law firms are not yet utilizing these methods, so put yourself ahead of the competition and be a familiar face to your clients even before they meet you.
3. Increase number of shares
Social video generates 1200% more shares than text and image content combined. By creating quality video content, you have a better chance of passively raising more awareness for your firm. With YouTube users sharing 400 hours of new video every minute, your firm is set to establish a connection with users and therefore, drive leads.
4. 'Humanize' your firm
Let's be real… Some of those who are looking for answers to frequently asked law questions may find it 'boring' or will most likely be unenthused as they search for answers that have to do with divorce or bankruptcy etc. With video marketing, you can answer these questions in a video format, letting a possible prospective client put a name to a face as you help answer their questions. This can ultimately instill a feeling of trust in that individual and you may have just scored yourself a new client!
These are just a few of the benefits of law firm video marketing. It can't be stressed enough that it is important for your firm to stay on top of evolving video marketing trends to remain relevant in the digital world as more and more people turn to online video for information and advice in addition to entertainment.
YouTube is not just for cat videos anymore!
Need help setting up your channel or getting started with video marketing? Give IFTS a call at 412.715.6266 and set up a free one-hour video roadmap session. We'll look at what you have done so far in the video space and set up a roadmap for you to follow to get yourself in front of more clients fast!