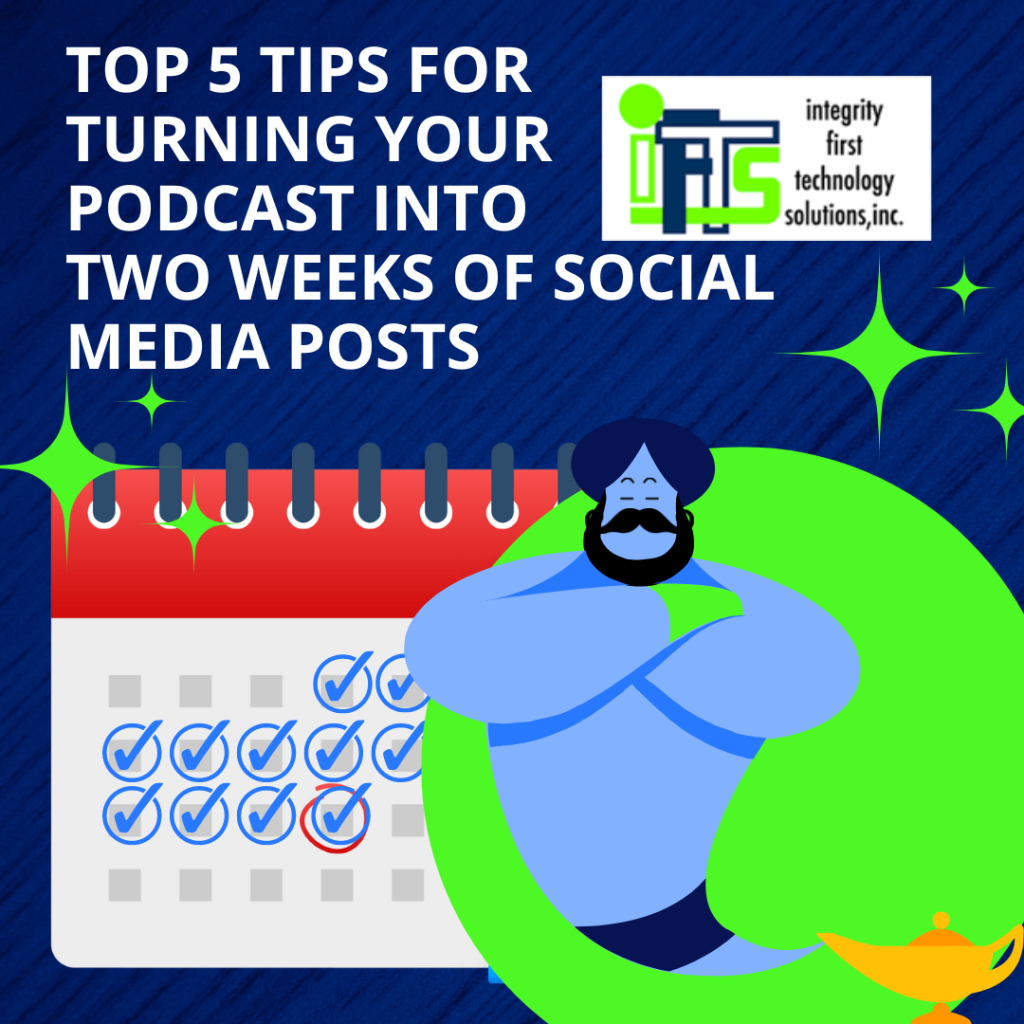 It can be a struggle to come up with fresh ideas for your social media campaigns, but if you have a great podcast that you're passionate about, why not use your discussions and turn them into social media content?
With a little bit of work, you can easily turn your podcast into two weeks of social media posts that will help you grow your audience and build your brand.
In this blog, we'll give you tips on how to turn your audio into text and graphic posts, and even short video clips for sites like Youtube, Instagram, Facebook, and Twitter. We'll also tell you how to promote your videos so that more people watch them.
So if you're ready to learn how to turn your podcast into social media gold, read on!
#1-Make a daily plan for the next two weeks for your social media.
Having an outline of the types of posts you want to share each day and the format you want to use, such as text, image, video, or a combination of the three, is helpful.
For example,
Monday: Upload your podcast video to YouTube (we talked about how to do this in our last blog) and share the link on your other social media sites.
Tuesday: Take a fun fact or quote and turn it into text with a picture that goes with it.
Wednesday: Post a short clip from the whole video.
Thursday: Find an inspirational quote and make a graphic related to your topic.
Friday: Create a blog link post.
Saturday: Post a fun fact or a funny clip.
Sunday: Reminder to check out the Youtube video.
Week 2
Monday: Combine text and a visual image using another useful fact or statistic from your podcast.
Tuesday: Make another inspirational quote post.
Wednesday: Create a list post or promote free consultations, subscriptions, newsletters, or other lead magnets.
Thursday: Provide another guest quote or topic quote, either in the form of a short video clip or an image and text post.
Friday: Post a reminder to check out your podcast with a link included.
Saturday: Share interesting facts or comparisons as an infographic.
Sunday: Show a screenshot of the podcast video or image with a teaser that says "keep tuned for our upcoming episode." 
#2-Pull out the most interesting parts of your podcast to create your social media posts.
You can do this the old fashioned way by listening to your audio and writing down at least 8 to 10 points you'd like to highlight, or you can easily transcribe your entire podcast with apps like otter.ai, which saves the entire text from your audio, making it easy to read over and copy all of the quotes and information you'll use when making your daily posts.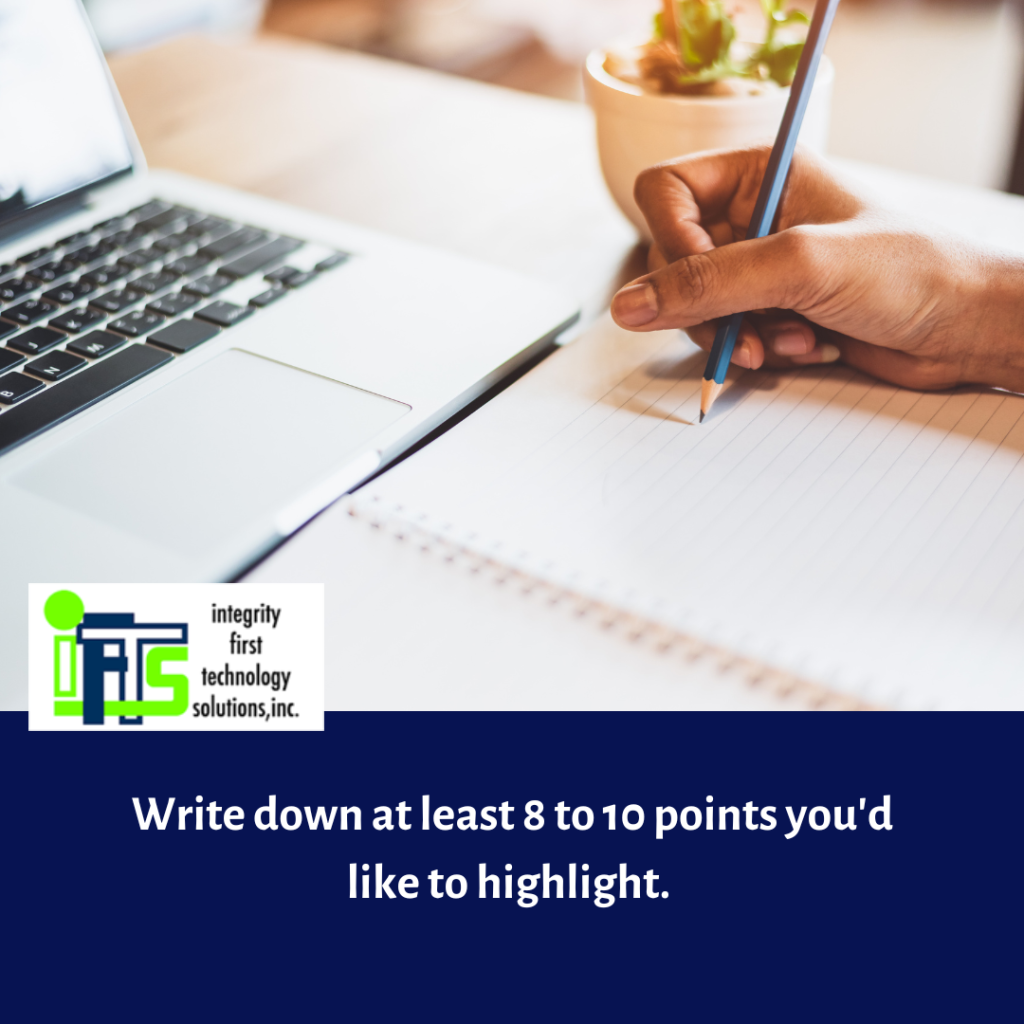 #3-Create your text and graphic posts.
Let's dive in!
Feel free to be as creative as you'd like, but we like to follow these simple rules.
Get the reader's attention with a topic line that stands out.

Explain why this content is important to them.

Tell them what they will learn.

Tell them how to listen to the episode.
Remember to add colors, your logo, and a font style consistent with your brand's personality and the topic you're covering.
Using photos, art, and other graphics can give your social posts a unique touch and help you get the attention of your audience.
It may take a little longer in the beginning to create posts from scratch, but once you have a theme, it will take less time in the future.
There are many design apps out there with free-to-use features, and one of the easiest and most intuitive to work with is Canva. With pre-made graphic templates you can change for your specific needs and a way to save all of your creations, you don't have to worry about starting with a completely blank slate the next time.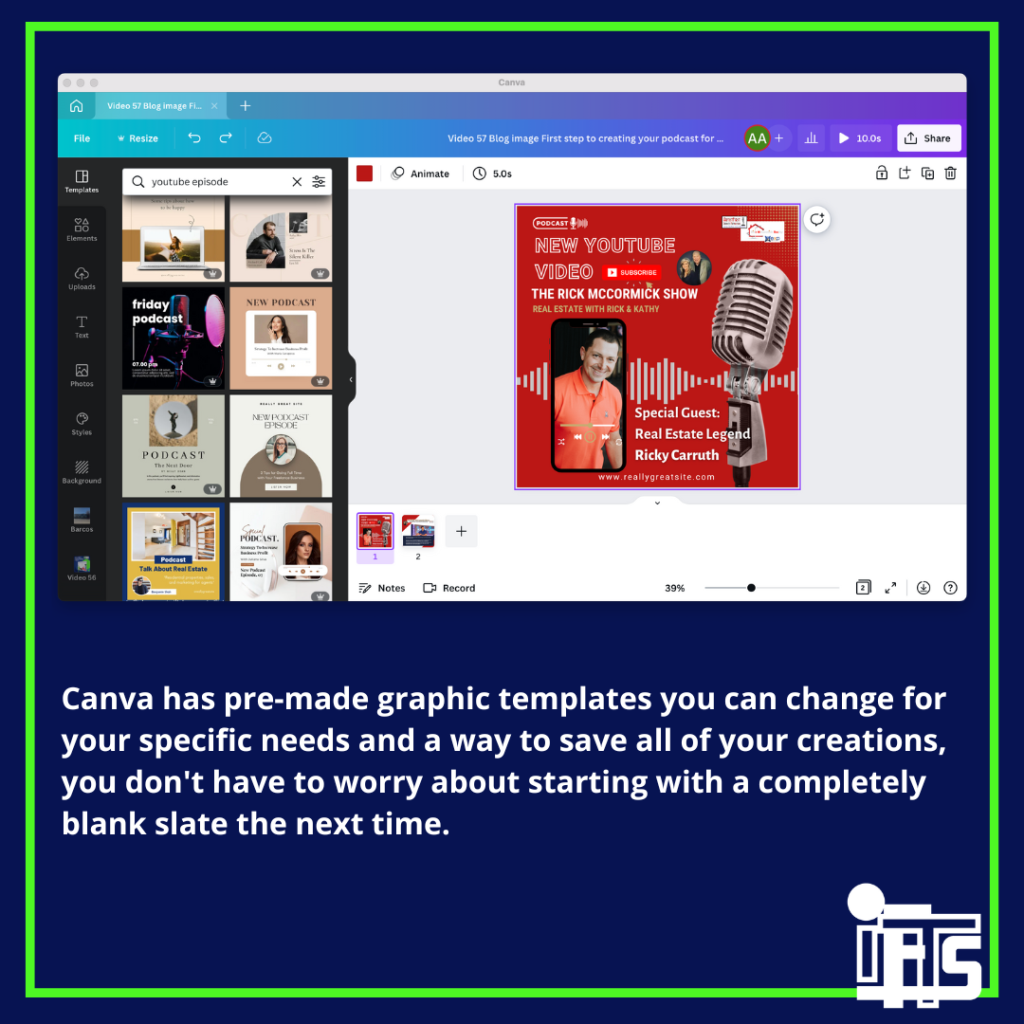 #4-Create your video posts.
Creating video clips and posts of your podcast episodes is a great way to repurpose your content and get more bang for your buck.
You can share two types of video: an actual video clip, if your podcast story or interview is videotaped, or an audio clip transformed into video format (mp3 to mp4), which is a lot easier than it sounds.
Read on to learn how to convert audio files to YouTube-friendly videos:
Go to

Headliner.app

or

Canva.com

and register for free.

Click "create audiograms" or choose one of the many video templates on Canva.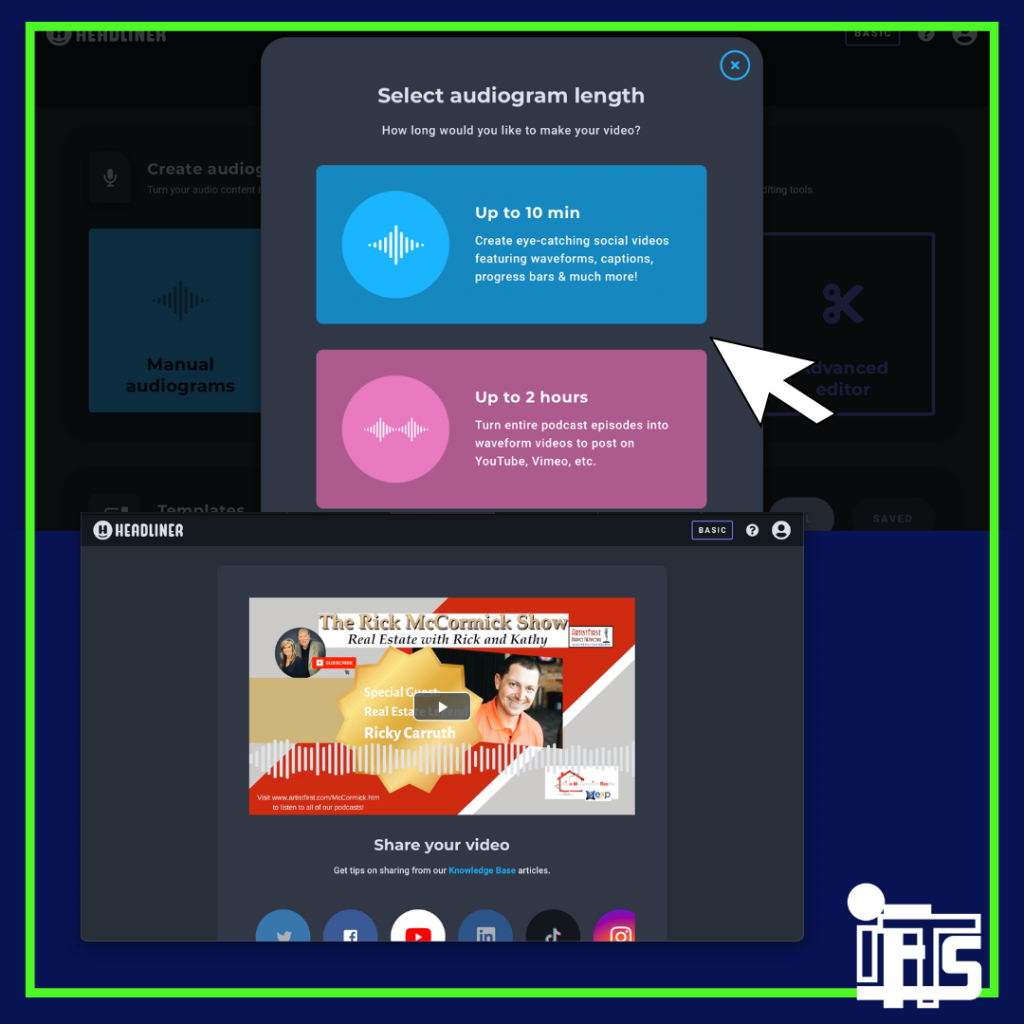 Upload your podcast audio, or you can upload a video file of your episode if using Canva.

Choose the length of video you will create, or for more advanced options, Canva allows you to cut your video and save it as a new project where you can add custom graphics and elements, including page animations, transitions, and background music!

Headliner allows you to Include transcription, but only up to 10 minutes in length. In Canva, you can add text to each frame of your video, which is time consuming for an hour long podcast, so save that for shorter clips. As we covered in our last blog, Youtube allows you to add subtitles automatically and is by far the easiest way to add captions to an entire podcast video.

Follow these steps to design, and your video clips will be ready to share on social media.
If you're posting just audio, try to keep it under one minute, and remember, sites like Instagram only allow video posts that are one minute or less.
And make sure you include a great opening line, so that listeners will want to hear more!
#5-Plan and schedule your posts.
The last step is to publish your content. You can do this manually, but if you use lots of different social media platforms, use an automatic scheduling program like socialpilot.co, which will allow you to plan multiple posts in advance.
These sites often provide analytics which tell you how your posts are performing on each platform. Be sure to try it out and don't worry about being perfect!
Finally, be sure to include links to subscribe to your podcast on iTunes or other sites and add relevant hashtags so that people can easily find and follow you. And remember to promote your videos by sharing with your friends and followers and encouraging everyone to share them, too.
You can also use paid advertising on social media platforms like Facebook and Instagram to boost your videos. When creating your ads, be sure to target people who are likely to be interested in your content. For example, if your podcast is about business, target people who work in businesses or are interested in entrepreneurship.
By following these steps, you can easily turn your podcast into two weeks of social media content. 
So what are you waiting for? 
Start creating and promoting your videos today!
Need some help in this area? Call our social media experts at IFTS and learn more about our services at 412-715-6266.