Want to know the best free way to promote your business online?
Google Business Profile!
Google Business Profile (previously known as Google My Business) is a free and simple tool for companies to manage their online presence across all Google services, such as Search and Maps. 
You can connect with your clients using Google Business Profile, keep your company profile up to date, provide pictures of your office/staff and keep track of how Google users interact with your company.
Businesses can now directly claim their profiles from Search and Maps, which is a brand-new feature that comes with the new name.
Google announced a name change for the platform in November of 2021, something that didn't come as a surprise to many because this is not the first time Google has changed the name.
Read on to learn about the new changes to Google Business Profile and how to set up your profile with some optimization tips for each section!
The decision to discontinue the GMB app in 2022 and urge company managers to view their accounts through "an enhanced experience" on Google Search or Google Maps is a significant step. This option has actually been accessible for some time; all you need to do is type in a search for your company name, or, if you're signed in, the term "my business," and then click on the profile that pops up. If you're a business with only one location, this could be an easier way to access your profile.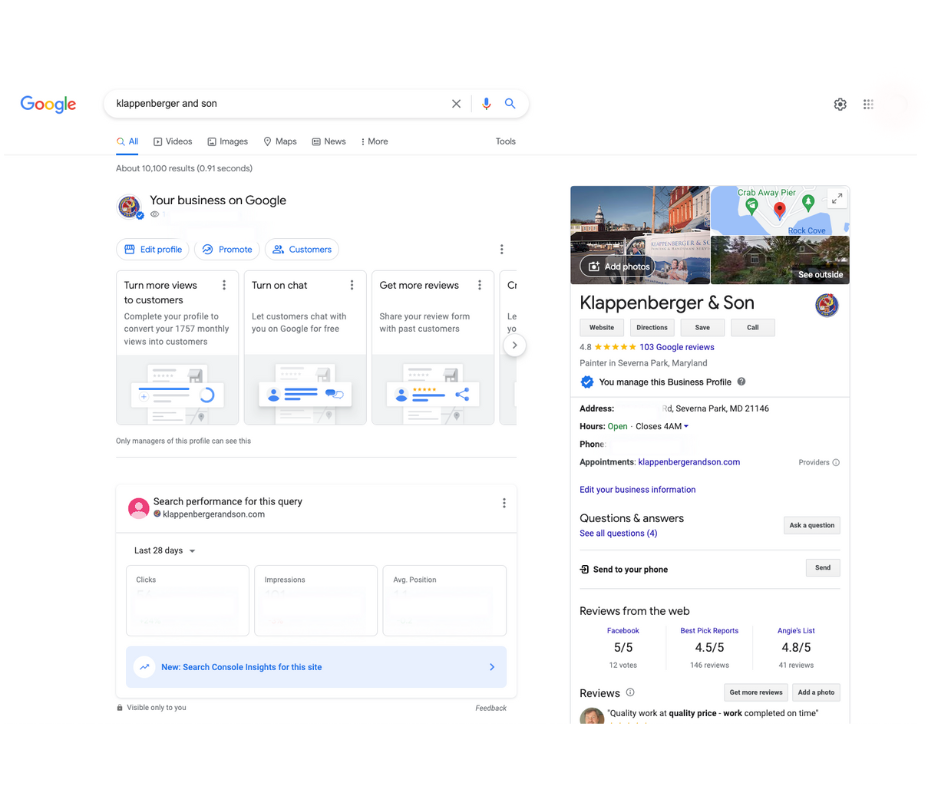 Setting Up Your Google Business Profile
To get started, you need to sign in or create a Google account.
If you don't have a Google account, head over to the create an account page. If you already have a Gmail address, then you can use that to sign in.
Claim Your Google Business Profile
A quick way to see if your business already has a GMB listing is to do a search on Google. If you see your business pop up, great! If not, don't worry, you can easily create a new listing.
If you do have a listing, but it's unclaimed, you'll want to claim it as soon as possible. An unclaimed listing means anyone can edit your business name, address, and hours- which isn't ideal.
To claim your listing, head to the Google Business Profile homepage and click on "manage now" in the top right-hand corner.
If you don't have a listing, you'll be prompted to create one.
When creating your GMB profile, you will be prompted to enter a company name. Ensure that this information is correct in order for clients to locate your business. Your profile name, as well as the name that appears on your signs and logo, need to be consistent with one another.
It is crucial to have a company phone number in order to receive business. If customers can't reach you, they may go to a competitor.
How will customers locate you if you don't have an address? Make sure to enter your address as accurately as possible. All abbreviations on your website, social media presence, and elsewhere should be consistent. The difference between "street" and "ST" may not appear to be important, yet it might result in your account being marked for inconsistency.
By linking your website to your Google Business Profile, you may generate more leads while giving potential clients access to your contact information and a detailed description of what you offer.
Simply specify your business's open hours to complete the hours section. Customers will know when to call, when to visit, and when you may be reached for business inquiries.
Photos are an excellent way to show potential customers what they can expect when they visit your business. Showing photos of your business' interior and exterior will give searchers a realistic idea of your business' space.
Photos of the people involved with your business can also be uploaded to show potential customers the faces behind your business. These could be pictures of employees, team members, or even yourself!
Including high-quality images is essential to building trust with potential customers.
Here's what to include:
Pictures of the inside of your business

Photos from outside of your business

Images of those who work there
This is possibly the most significant component of your GMB profile is the description. You want this to be enlightening and SEO-friendly (search engine optimized). An effective strategy for this is to respond to frequently asked questions about your company and include keywords that your website targets.
For instance, describe what you do, where you are located, and the people you work with.
This area has a character limit of 750, therefore we advise using every last one of them.
Categories describe your business. They expose you to people that are looking for your products or services.
Google gives business owners the option to choose up to nine other categories in addition to a primary category that best describes their company.
For example, as a painting company, these categories may include:
Painter

Painting

Painting company

Painting contractor
Keep in mind that the categories you select will have an impact on your organic search results. Ensure that these are as accurate as possible and reflect your company's interests.
The minimum size for your logo is 250 × 250 pixels; make sure it's not too big or too little, and that it's square. Your logo is how customers identify and relate to your company. 
In addition to providing your company logo, you must also submit a cover photo. This has a minimum size of 480 x 280 pixels and a maximum size of 2120 x 1192 pixels. When submitting your cover image, make sure it's in JPEG or PNG format to ensure the maximum quality resolution for your profile.
Ask and Answer a Question
As a business owner, you may use Google to ask and answer common questions. For example, as a painting company, you may ask, "Do you offer power washing?" "Can you paint my deck?" or "How do I contact you?" These questions and answers give users hassle-free responses without the need to contact your company ahead of time.
Reviews on Google provide valuable information about your business to both you and your customers. Business reviews appear next to your listing in Maps and Search, and can help your business stand out on Google.
To get reviews on Google, encourage your customers to spread the word about your business by following these best practices:
Encourage your consumers to post reviews. Inform them that leaving business reviews on mobile devices or desktop computers is quick and simple.

Respond to reviews to gain the trust of your customers. Customers will see that your company appreciates their feedback and will be more willing to post additional reviews in the future.

Verify your business so that it can exist on Maps, Search, and other Google services. Only companies that have been verified may respond to reviews.
As previously stated, clients may post reviews based on their interactions with your business. You will be able to respond to these reviews after your account has been verified. Keep it short and courteous, and thank your reviewers regardless of their feedback.
Check out this article for further information on how to deal with both positive and negative reviews.
Verifying your business allows it to appear in search results and maps for customers. This will also enable you to reply to reviews, as well as provide other management benefits. Visit this page for more information about business verification.
You can help your customers find you, interact with your business, and learn more about what you have to offer by creating a Google Business Profile. Additionally, your Business Profile makes it easy for customers to reach you and creates a lasting impression after they've viewed your website or interacted with your business on Google.
Have questions about setting up or improving your Google Business profile? Contact IFTS today at 412-715-6266 and we will get you started with a free 13-point profile assessment.